Homemade Kimchi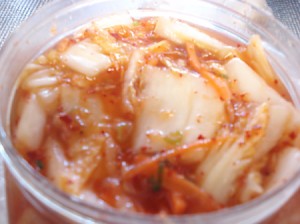 Kimchi is a fantastic Korean pickled cabbage. It's got a great kick, crunch, and happens to be very good for you. It is very low in calories, it helps boost metabolism, and it contains immune and digestion boosting probiotics. Unfortunately, some of the commercial kimchi in the shops can be overloaded with salt and sometimes even MSG. Here is how to make your own at home.
You should plan on making this a week ahead of time to give it time to ferment properly. Using a glass jar is preferred.
Prep Time: 25 minutes
Total Time: 3-7 days to pickle/ferment
Yield: 1 quart kimchi
Ingredients:
1 head napa cabbage
1/2 cup kosher salt
12 cups cold water
3 ounces daikon radish
3 ounces carrot
5 cloves garlic
2 ounces fresh ginger
3 green onions
3 Tbsp fish sauce
4 Tbsp Korean salted shrimp (can substitute with salted anchovies)
4 Tbsp sugar
5 Tbsp red chili flakes or powder
Steps:
Cut the cabbage in half lengthwise, then crosswise into 2-inch pieces. Discard the root end. Place in a large bowl, sprinkle with the salt. Toss with your hands until the cabbage is thoroughly coated. Add enough cold water to just cover (about 12 cups), making sure the cabbage is submerged. The water should be salty like seawater, as they say. Cover with plastic wrap or paper towels and let sit at room temperature 8 to 12 hours.
Place colander over a big bowl and pour out cabbage and salty water, reserving the salty water. Taste a cabbage. If it is too salty for your liking, you can give it all a rinse. Set cabbage aside.
Crush the garlic and grate the ginger. Cut the daikon and carrot into thin strips. Chop the green onion. Add the fish sauce, dried shrimp and sugar. Mix it all together. Add the cabbage and about a cup of the salted reserved water.
Place all the contents in a jar and leave the lid slightly open for about a day at room temperature. Make sure there's enough liquid to cover the mixture.
After a day, close the lid tight and keep in a cold and dark place. Wrap the jar with double or triple plastic bags to keep the smell from seeping. You can start eating it in about a week.
Add your voice! Click below to comment. ThriftyFun is powered by your wisdom!
July 14, 2017
0

found this helpful
Attosa! Do you ever have time to sleep? You must be the prime example of the phrase "if you want something done - ask a busy person to do it".
I learned to make Kimchi a few years back (before it became "healthy") but just a little different than your recipe. I think I might try your recipe next time as sometimes just minor changes can make an entirely "new" taste.
Thanks for posting this recipe and I hope it will be an inspiration for someone to try making it since your instructions and photos are so easy to follow.
Betty
July 14, 2017
0

found this helpful
Hi Betty! I finally got 4 days of extra sleep in as my family had enough food from all my cooking, they were able to eat leftovers. I'm lucky they love leftovers ;) But yes, ask me to do anything and I'll do it no matter how busy I am. It makes me happy!
I'd love to know how your kimchi differs from mine! I'm up to trying something new, too! Let me know how you like this version!
Big hugs,
Toosa
Add your voice! Click below to comment. ThriftyFun is powered by your wisdom!
Related Content