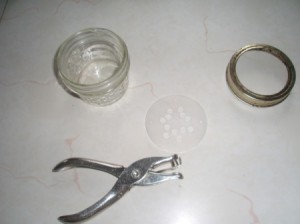 I made a seed sprouter to sprout my own seeds for my salads, plus I always sprout my seeds before I plant them in my garden. This reduces the need to wait to see if my seeds will start growing, then weeding out others. Less cost to only grow what you want instead of wasting money on seeds that either don't grow or are pulled to thin out the crop!
Use a small jelly jar for canning or any smaller jar. Get a plastic lid from some other container and punch holes with a hole punch around it. My seeds didn't come out since I used larger seeds, but I even used lentils and they didn't come out either. Only VERY SMALL seeds might and then you might want to put a layer of cheese cloth or a nylon on the top of the jar and screw the ringed lid on! If you use a solid jar top, punch some holes in the top with an awl.
You can pour water directly into the holes, shake, and pour back out. I keep mine on the window sill over my kitchen sink and do it daily. Depending on the seed, they will start sprouting between one and two weeks!
Great for salads, crunchy and fresh. Great to sprout your new garden seeds for planting too!