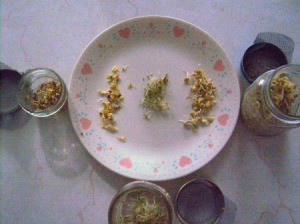 I always sprout seeds, especially in the winter. I add them to sandwiches, salads, soups, or even eat as snacks! I normally just use a mason jar with a piece or cheese cloth or a little screen material under the jar ring/cap to allow me to rinse and drain daily until they sprout.
Instead of buying prepackaged sprouting seeds (pretty expensive) I decided to use what I already have in my cupboard: split peas, chickpeas, mung bean, lentils, and sunflowers, all with great success!
Just pour seeds into a jar, add water the first day and let them soak. Dump the water the next day and lay the jar on a dish on its side. The point is to keep the seeds or beans wet, but not swimming in water. Most sprout within 3 to 5 days! When they are ready simply put them (still in their jar, minus the water) in the fridge and use them within a few days.
Here is a list of things that I know of that you can sprout. I am sure there are more but these are pretty commonly found in a kitchen cabinet: alfalfa seeds, broccoli seeds, chickpeas, chia seeds, fenugreek, flax seeds, mung beans, radishes, peas (split, red or yellow), lentils, sunflowers, rye beans, and wheat berries.
Pictured: Left to right. Radishes - (spicy and great as an added kick to foods. Middle-some packaged sprout/salad green seeds I had, right-split peas. They are larger, hardier.