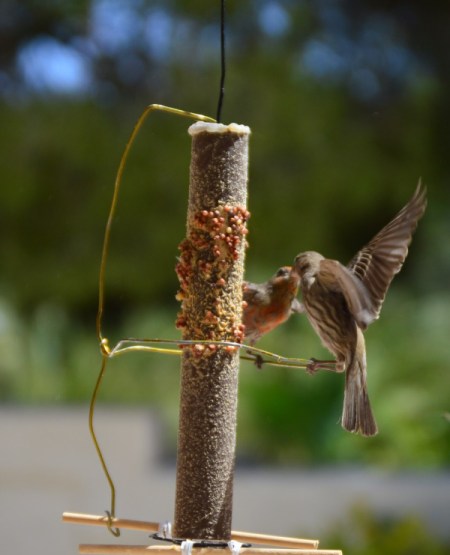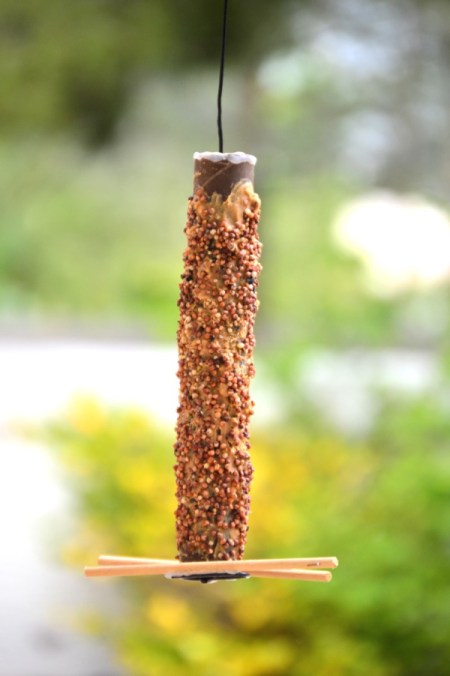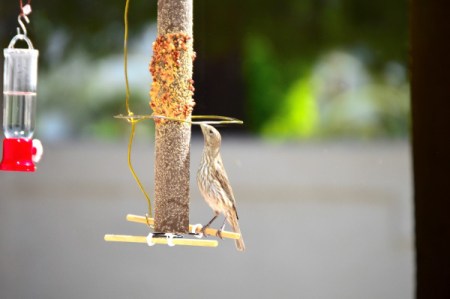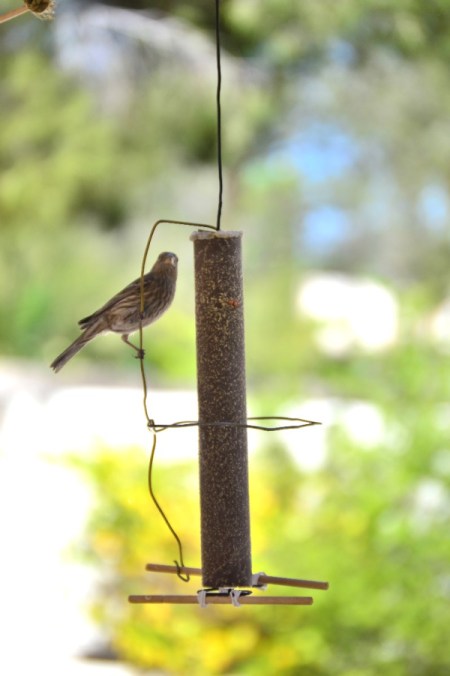 Photo Description
The first picture with the orange colored bird and the other, are called a house finches, and the "orange'ish" male is feeding the female, which at first I thought how cute it was to see a mommy bird feeding her baby.
Then I got confused, because the orange'ish bird is a male, as the females are usually un-colorful, and plain.
So I went researching to see which male birds feed their young, and found out this isn't a male or mother bird feeding the baby at all, it's actually the male feeding a female bird, and they do this in their courtship.
The male house finch apparently thought this was the best place in the neighborhood to take her on a dinner date. hehe
The second photo is of what we call the *seed log*. That's what it looks like when it's first put outside for them to eat.
It's an empty paper towel roll, supported with a smaller roll inside it, (so it doesn't collapse) when they pick and scrape off the peanut butter, seeds, and nuts. They seriously go wild over this.
The third picture is a female practically on her tippy-toes, not realizing she can hop right up to the next level *onto the scaffold* as my husband calls it, since we took another hanger and bent it around the seed log for level two so they reach the rest of the seeds.
The last picture, it looks like he's now asking me to redo the seed log with goodies, as they've picked and scraped it clean! Gosh, they love it.
Photo Location
Picture taken today in our backyard, Las Vegas.
Add your voice! Click below to comment. ThriftyFun is powered by your wisdom!

attosa
Diamond Post Medal for All Time! 1,246 Posts
May 16, 2018
1

found this helpful
Beautiful photos and thanks for researching and posting! I think that's how my husband got me in the end-- feeding me. :D

May 17, 2018
0

found this helpful
That's funny Attosa! :)

May 20, 2018
0

found this helpful
Very nice photos and story! Mary

May 21, 2018
1

found this helpful
Thank you! :)
This seed log that the birds love, lasts about 2 days, then it's completely picked and scraped clean. What I'll do now is, I'll just go outside with "their spoon and their jar of peanut butter" and smear it all over the paper towel roll, then grab handfuls of bird seed, and slap it on the gooey peanut butter and it sticks instantly, and I can almost feel all the birds eyes on me when I do this, because as soon as I walk back in the house, and look outside, they're all back at it again, eating like they've landed in
paradise, haha
There isn't a day go by that we'll see something brand new that the birds will do, and we bust up laughing because of the funny characters they can be! They're a total riot.

June 6, 2018
1

found this helpful
Well, the courtship is over, hehe, and here's the "fam".
I'm actually not sure if the two birds courting (in the first picture) where the male is feeding the female, if that in fact, these are
the same birds. Probably not, because the female couldn't have
laid her eggs and the babies hatched already.
But, nonetheless, this is a momma bird in the front (right) and the daddy in the front left (orange bird) and the two babies on the back dowel.
The babies aren't brand new babies, because we've been seeing them join their parents now for a few weeks now, and it's so cute
how even though they grow so fast and are probably teens now,
they still want mom to feed them.
You can see the little "whisps" of hair/feathers on the little ones head, in the back (right side).
I can't believe how fast they clean this peanut butter log coated with seeds off. I mean every other day, it's picked and scraped clean down to the paper towel roll.
It's so much fun watching them, especially the entire family here, all enjoying their day out to the food buffet.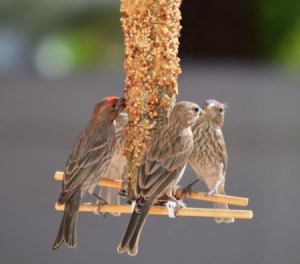 Add your voice! Click below to comment. ThriftyFun is powered by your wisdom!