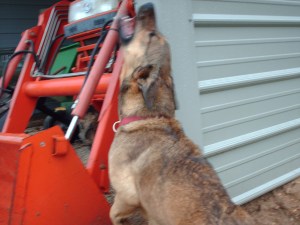 With so many people asking "What breed is my dog?" on here I thought I'd share a cute, quick answer that anyone can use, any time someone asks what breeds are in your mutt, or "what kind of dog is that?"
We had a dog that was a Boxer Shepherd mix (at least near as we could tell). We didn't care what was in the dog, but people were always asking, so we decided when anyone would ask we would answer "Oh, she's a Standard American Browndog." You say it with a completely straight face, followed by a little smile and a wink if you wish. It lets people know that you: a) don't know and b) don't care---she's your baby and you love her as much as any pedigreed purebred.
For different shapes, sizes, and colors of dogs you just adjust it a little. You could say "he's a Miniature Dutch Parti-Colour", or "she's a Petite Noir Pees-a-Lot", or "He's a Tri-Color Tailwagger". Just make up something and go with it.
When you do this people get kind-of a blank look on their face for a minute, and then they (almost always) get it. It's usually a good conversation starter too.
The photo is our "Standard American Browndog", Princess, howling that she wants to ride on the tractor!