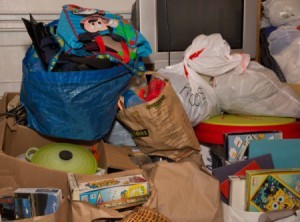 We lived in the countryside and we had some hard times, just like many others. That did not stop us from sharing with people or trading to make things easier for both us and others. We had a few second hand stores in the town we went to shop. My mom had prayer meetings with some of the women that worked at these stores.
When chatting, the need of others would come to be talked about. There were some boxes of articles in the stores that would not fit in the storage areas so they would be sent to the dump. Could my mom find a way to donate the extra to these people? She said she could if she could find a way to get there and back without an extra cost. We had a car but no extra gas money. We went to town two times a month and had a list of things to do. We always went on a roundabout way so as not to waste gas.
My mom started by getting a phone number of some one in the area of need and finding out if there were something that can be traded, and then sold to pay for gas to go the long distance there and back. Once she had an arrangement, she would load up as many boxes as possible and take them to the area to be shared amoung the people. Then she would find the people she was going to do trading with and see if it would pay for gas.
If this would not work, then another kind of dealing would have to be looked in to. Some times it was wild meat we did not have or something the area was good at making. We once had a load of hand made baskets to sell or trade for, another time tree bark boxes. One year two women made reeth rugs and mats, they were popular.
Not many have the time or willingness to do all these kinds of things but these people were snowed in all winter. To keep busy, they made things. It was hard to get a ride to a place to sell their work, so trading and getting clothing and other house hold things was a great deal. My mom and I would have to get to the early Spring festivals to sell the goods. Having a little gas money at first took time and savings to start this up so all would be ok.