How to Make Paper Covered Tin Can Organizers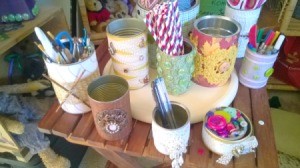 I have had a photo of something similar for about 2 years so today was the day to just do it.
If you are by yourself, this is labor and time intensive. If you have a group of friends, it's would be a lot cooler and faster.

Total Time: 8 hours
Supplies:
10 tin cans of various sizes (you can have less)
10 Sheets wallpaper and scrapbook paper sheets ($1.00)
glue gun
scissors
ribbon in various lengths ($.25)
lace in various lengths ($.50)
buttons, as needed ($.25)
embellishments ($2.00)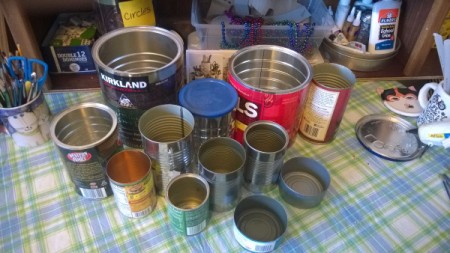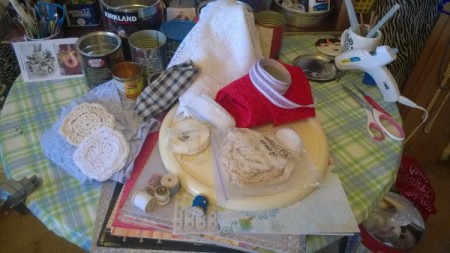 Steps:
With each can, determine the paper you want. Either measure the can lip to lip and mark the measurements on the paper and cut or mark the measurement and fold over the paper and cut.

Once the paper is glued, you can begin to create each can to your liking. I wanted each one to be different, but you can have them all with a color scheme or the same fabric with different colors, etc.
My first one was a tuna can. I glued on some gold piping, and went on from there. I sometimes keep going without taking a shot of the steps so forgive me for leaving the first one a bit of a mystery. The next one by it was a fruit can. It's paper was lace doilies too. I wrapped some white lace around it and put a white faux pearl earring in the middle. It's the most feminine of them all!

The next has a soft lavender color with matching ribbon and olive green buttons. These are the two colors of my living room.

The next one was a veggie can. It's got paper that looks like paper doilies so I wanted white lace on it. Once that was on, I found an old elastic faux ruby bracelet that "just fit" over the top and a broken piece of jewelry to finish it off.

The next one I wanted to be a bit masculine. It's faux wood on the paper, so the brown stones in this old brooch were perfect. I bent it so it wrapped around and glued it on.

The next one has paper with grass images so I just randomly glued green glass nuggets on it and left it pretty simple.

The next can is one of my favorites. It has fall leaves with three matching mini doilies on it and 3 matching buttons. I threaded some crochet thread in the buttons and tied them to make them look more authentic.

The 9th can got some pretty sparkly paper and some wrapped lace with five or six pieces of jewelry placed so you can see them.

The next to last one was for my crochet hooks and it shows! But, I forgot to take shots of it being made so my bad. I had this wonderful cream colored paper with gold stitches running through it. So I glued on some gold lamé ribbon/lace and criss-crossed two wooden hook in it.

And the last one is a big old coffee can. I had some pretty lavender and green paper, and began sorting out purple and green buttons. I didn't have enough of one color so I mixed them and glued them on. I hope you make something similar someday. It's great to do with friends. This took me almost 8 hours so yes, delegating is key!! N-JOY!
Published by ThriftyFun.
© 1997-2022 by Cumuli, Inc. All Rights Reserved.
https://www.thriftyfun.com/How-to-Make-Paper-Covered-Tin-Can-Organizers.html