Making a Tiny Bow
Sometimes the little things are the hardest. Years ago, when I needed a tiny ribbon bow to decorate a package or an article of clothing, I struggled for hours trying to get it right. I must have wasted entire bolts of ribbon! Then I learned to do it the easy way.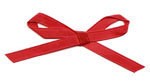 Approximate time needed: Five minutes.
Materials:
nine inches of double-face satin ribbon or narrow lace
Equipment:
Instructions:

This little wee bow is delightful to adorn the front of a simple cami or little girl's T-shirt. Glue it onto a place card for your next holiday meal, or on the front of a handmade greeting card. You can even sew it onto a teddy bear's sweater or a doll's hat. Once you master the technique, you'll find yourself using it in lots of new ways.
The only material needed to make this simple bow is nine inches of double-face satin ribbon. To discourage fraying, cut the ends at an angle with a sharp pair of scissors.
To make the bow, start by thinking. That's right, thinking. Remember when you learned to tie your shoes? The first step was to cross the two laces, and then pass one underneath the other. This is called a half knot, and it's also the basis for the tiny bow. You can even practice by holding each end of the ribbon between your thumb and forefinger, crossing both ends, and passing one under the other. Just don't pull the ends too tight.
Now untie it, and we'll try the "real thing."
In this version of the half knot, you will cross two loops instead of two ends of ribbon. Instead of holding the two ends of the ribbon, gently fold back about three inches at each end, and hold one of these loops of ribbon in each hand. The middle of the ribbon will be hanging loose between your hands.
Now cross the two loops and pass one loop under the other. Carefully pull it tight, making sure the two ends don't come through. Once you pull it tight, you will have a tiny bow.
Trim the ends even, at an angle, and it's done. If you're sewing the bow on, be sure to catch all the layers of ribbon with the thread, so it doesn't come untied when it's washed.
You can make the bow with quarter-inch or eighth-inch ribbon, or with narrow lace. Try using different materials for different looks. While you're at it, you might try tying some heartstrings. What a great project that would be!
By Patty Zion from PA
Comments
Read More

Comments
Advertisement
Categories
Pages
More
Categories
Published by ThriftyFun.
© 1997-2020 by Cumuli, Inc. All Rights Reserved.
https://www.thriftyfun.com/How-to-Make-a-Tiny-Bow-1.html