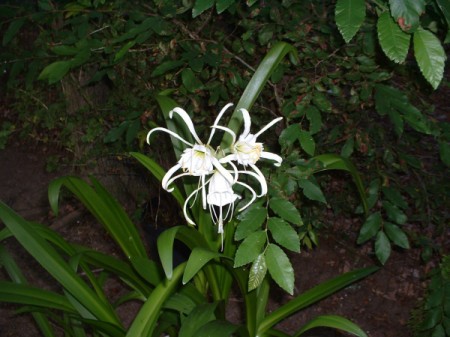 Photo Description
Here is another flower worthy of mention on the ThriftyFun web site, because it is in keeping with the ThriftyFun spirit.
It's name is Hymenocallis festalis.
Note: Botanists and taxonomists have a peculiar bent in that they seem to thoroughly enjoy assigning names to plants that allude to a female's 'private parts'. That's how the flower 'Clitoria' got it's name. They have a penchant for doing the same with the private parts of a male, but we won't persue that, just now (maybe never).
We can thank botanist Richard Anthony Salisbury for giving us the name of the plant pictured here. He tells us the name 'Hymenocallis festalis' refers to the "beautiful membrane' which connects the filaments. (Control yourself, Doug. Don't insert that hilarious thought you just had).
OK. Back to sanity. The common name for this flower is 'Peruvian Daffodil'. Shall we go with that? It is native to, among other places, Peru, and though it is a member of the Amaryllis family, it does somewhat resemble a daffodil.
As you can see, I took these pictures near dusk. That's when I noticed my first flower of the year. It's also the best time to indulge in it's wonderful perfume. The House of Dior can only dream of developing a fragrance this delicious.
Oh, back to the ThriftyFun spirit. Three years ago, I purchased a discounted bag of three bulbs for a buck. As you can see, they have multiplied rather nicely. Soon, I'll be giving some away. Sharing is one of my most favorite parts of gardening.
Photo Location
My home in NC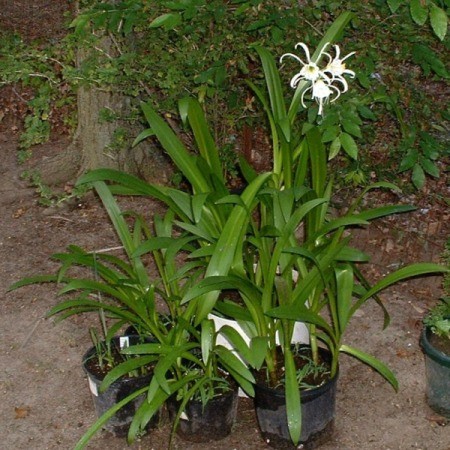 Add your voice! Click below to comment. ThriftyFun is powered by your wisdom!
Add your voice! Click below to comment. ThriftyFun is powered by your wisdom!