April 22, 2012
0

found this helpful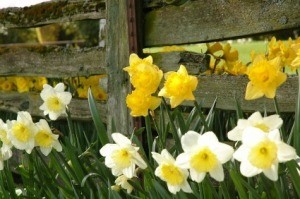 Of all the bulbs that bloom in the late winter and early spring, daffodils (Narcissus) are among the easiest and most rewarding to grow. If given minimum care at planting time they will grow, bloom, and increase in number with virtually no further attention from you. Because their flowers bloom in early spring you don't need to water the plants during the summer. Daffodils seldom need dividing, and perhaps best off all, they are completely unappetizing to the same rodents that find your tulip bulbs irresistible.
Daffodils in Containers
Daffodils can be grown in containers providing the containers are deep enough to allow at least 2 inches of rooting medium beneath the bottom of the bulbs. Small species of Narcissus, like N. Tazaetta, work best if you are looking for permanent, long-term container plants. Most of the larger flowering daffodils, however, tend to perform well in a container for just one season, after which their performance starts to decline. After their "big year" it is best to dig them up and move them to the garden and replant the container with a fresh round of bulbs. Bulbs growing in containers need cool conditions and plenty of fresh air. While the bulbs are rooting, exposure to temperatures above 45 F may cause the flowers to abort. After planting bulbs in the fall, cover the bare soil with mulch and place the containers in a cold place like an unheated garage. Move the containers into a cool room approximately 12 to 16 weeks later. Depending on your climate you can also set them outside. Once the flower buds appear in the spring, blooming can be advanced by gradually raising the temperature.
Daffodils in the Garden
Daffodils are incredibly versatile bulbs. In the garden, use them to bring early spring color to mixed borders of annuals and perennials, or plant them under deciduous trees and shrubs. Daffodils are also among the most reliable of bulbs for naturalizing open grassy areas as they rarely need lifting in borders or grass. Tiny dwarf daffodil species are an ideal choice for rock gardens and raised beds. Daffodils will grow in almost any soil type, but they prefer moist, well-drained, slightly alkaline conditions. They will thrive in sun or lightly dappled shade. Plant the bulbs two to three times their depth (spaced 4 to 6 inches apart) in late summer or early fall. Water newly planted bulbs thoroughly to initiate root growth. In many growing zones, fall and winter will be wet (or snowy) enough to take care of the bulbs moisture needs until spring. In warmer climates, keep the plantings well watered between rains-especially after the foliage has broken through the ground. If you are naturalizing daffodil bulbs, avoid cutting the old foliage until it turns yellow and begins to die back (about 6 weeks after flowering). As long as the foliage remains green, it is still working to recharge the bulbs for next year's flowers. Feed bulbs in the fall with a slow release organic fertilizer.
Dividing daffodils
Clumps of established daffodils only need dividing once flower production and bloom quality has started to decline (every few years). Dig up the bulbs in the summer just after the foliage dies back. In order to minimize damage to the bulbs, use a flat garden fork or trowel to carefully pry out the large clumps. Separate the bulbs by hand (those difficult to pry apart should be left intact) and either replant them immediately, or store them until it time to plant them in the fall.
Q:
I just received a gift of potted Daffodils. Of course, I hope to be able to plant these outside, and I am curious as to the best way to do this. The ground is frozen right now obviously. Do I plant them in spring right from the pot or is there some special care I should take?
Hardiness Zone: 5a
Thanks for all help. :)
Leslie from Barrie, Ontario
A: Leslie,
You have two good options. The first is to plant your daffodils in the garden in the spring. If all goes well, they will return to their natural cycle, however, it sometimes takes 2 to 3 years for bulbs to come back after being forced indoors.
You can also store them over summer and plant them in the fall the same way you would new bulbs. To do this, keep your plants as healthy and active as you can while indoors. After they bloom, remove the spent flowers to prevent them from forming seeds. Place them in a cool, sunny location and let the foliage die back naturally. Keep the soil moist, but not wet. You can fertilize them once a month with a plant fertilizer until they look like they're dieing back. The longer they stay green, the stronger the bulb will be and the more likely it will bloom next year. After the foliage dies back, quit watering and let the soil dry out.
Store the bulbs in a cool, dry place until you plant them in the fall. Plant the bulbs 2 times as deep as they are tall (usually 4 to 6 inches deep) in full sun. Daffodils do not like soggy soil so make sure to plant them where they get adequate drainage.
Answers
By Kim (Guest Post)
February 24, 2006
0

found this helpful
Same advice with crocus, Leslie. Just plant them in the ground. Daffodils will only grow greens the first year, and the second year will produce blooms. Like all bulbs, let the leaves die on their own to give nutrition to the bulbs for the following year. This is the hardest thing for me, letting the leaves stay for a while, looking dead with the other flowers but it's necessary. Enjoy them!
By Taylor Marye-Baker (Guest Post)
February 25, 2006
0

found this helpful
My birthday is in March and I always get potted daffodils / jonquils as a gift. For years I planted them in my garden in a circular pattern around our fire pit. Every spring I loved seeing my fairy circle appear. You can place your flower bulbs in the basement or in a dark closet after they have finished blooming. In October you can plant the bulbs in the ground. Don't ever mow the leaves down before they have completely turned brown or your flowers won't bloom the next year.
By (Guest Post)
February 25, 2006
0

found this helpful
Hi Leslie....Courtland, Ontario here. I just wait till frost is over and plant both daffodils and crocus. I find they will come up the next year. I have done this with all the outside plants you can buy in the stores before spring, tulips too. good luck, :0)
By Leslie (Guest Post)
February 26, 2006
0

found this helpful
Thanks, all, that is great. Sounds easy enough.
I am excited to see what happens with them in a couple years. I never knew patience till I started gardening :D
Answer

this Question

...
I am going to be planting a lot of bulbs, both tulips and daffodils (separately). I am going to be planting these in a few different areas and I am looking for idea of wildflowers/perennial flowers that would look nice with these two different bulb flowers. The bulbs are both 3 month blooming groups, meaning, there are different types of bulbs within the group so some bloom early, some middle, and some at the end of the season.
Thanks so much!
By mindy from Terrebonne, OR
Answers
September 28, 2011
0

found this helpful
Dear Mindy, I find good companion plants for bulbs, are Virginian stock or Alyssium (sweet Alice). Both are low growing, gentle plants, and allow the bulbs to be the main attraction. Regards Jean, Maffra, Gippsland, Australia
Answer

this Question

...