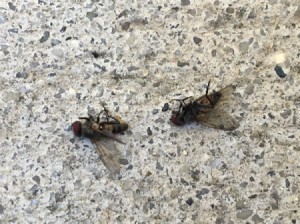 These insects fly in two areas: on the side of our house and in the back. They don't bite, but our kids are afraid to go near them thinking that they bite. And when adults go near them, they won't bite, but you sure can feel them around your head.
There are no trash bins under or near where they fly so it's not some smell they're after. Still, I've soaped and brushed the concrete where they like to fly over hoping I'll get rid of whatever smell they're attracted to, but no luck there. When it rained this past weekend, they temporarily moved near our kitchen sliding door where there's an overhang. Pretty smart creatures! My husband was a given a zapper and when he used it, he gets several of these insects in one swing -- that's how many there are! He also tried a fly trap but these are not attracted to that light.
We are running out of options that we are aware of. So if someone here can help us with ways on how to get rid of them, or even identify them so we can take the proper measures, it'll be great!
Thanks!