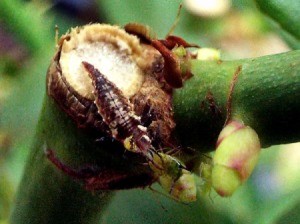 Most of us know ladybugs are just one of a group of insects that are beneficial to the garden. But what about the ladybug in other than the adult stage? I discovered something very interesting.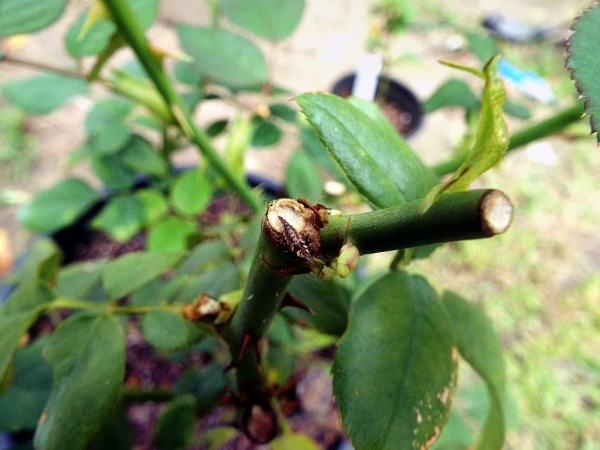 Earlier this morning, I did some minor pruning to some rose bushes. A few hours later, I returned with candle and lighter in hand, ready to seal off the wounds lest rose cane borers tunnel their way through the stems of my roses.
I saw a critter sitting on top of one of the fresh cuts. It was sucking the juices, and life, from an aphid.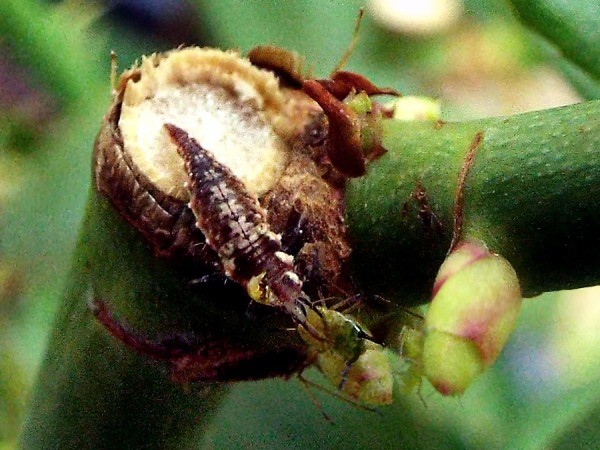 I thought, 'Aha, Just in time. My guess is, once this borer finishes its meal, it will start rasping its way through the heart of this stem and probably kill it'. I hadn't seen a cane borer in years, but it certainly was the right size.
I snapped a couple of pictures and sent one to my ag agent, asking him if this was indeed a cane borer. He quickly replied that this was a larva of the ladybug, and even at the larval stage, was one of the most beneficial insects in the garden.
I replied with my thanks for the info because I was just about to kill the critter. He said, 'No, these are good. You want to keep all of them'.
So, I'm re-familiarizing myself with the appearance of the cane borer. Most are much darker, winged and with antennae, and somewhat resemble a skinny fly. And they can sting! Nothing like a bee sting, but you will know you've been stung.
And of course, the ladybug larva's presence tells me something else. I need to increase the frequency of my insecticide spraying. But then, maybe not. I have seen very few aphids on my roses this year. They are not a problem. So why should I kill the food supply of a very beneficial insect?
(I'm patting myself on the back. I'm so bright. I guess that's why Mama called me 'Son').