Identifying Tiny Black Bug on Sheets?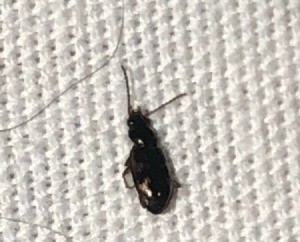 I recently moved and after a few days of living in the new house I started to notice small black bugs crawling on my sheets. I wasn't sure what they were, but I washed my sheets and yet I still see these bugs. I don't see them anywhere else in the house just on my bed. I've googled for hours, but can't seem to find what they are! Someone please help so I know how to get rid of them!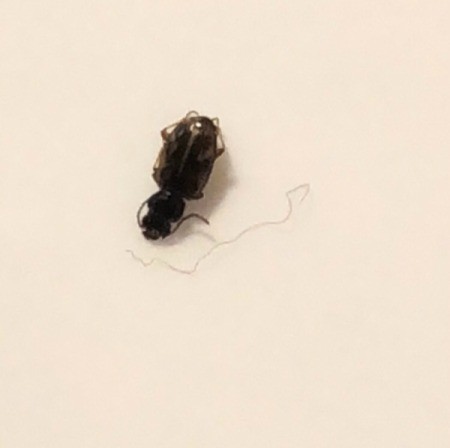 Add your voice! Click below to answer. ThriftyFun is powered by your wisdom!
July 1, 2018
0

found this helpful
Best Answer
Looks like a ground beetle to me and they are usually okay in the garden but not so nice in the house. They are getting on your sheets because they are attracted to light and your white or light colored sheets may be confusing them.
It is best to vacuum them or pick them off with a rag and ditch in a closed garbage container.
You should try to look around and see if there are any holes in screens or leaks in windows where they could be coming in. They will seek out light anywhere they find it.
Sites recommend changing any outdoor lights to yellow bulbs and do not leave on unless very necessary.
These bugs may be around the foundation of your house and like to accumulate in piles of leaves or wood.
There are insecticides available at most box stores as well as online but I would not use them unless you find you cannot remove them safely from your home.
You can use Diatomaceous Earth (food grade only) in your house and it will kill these beetles but is not a fast acting solution. Diatomaceous Earth is a broad spectrum desiccant dust that can be used for long lasting control of crawling insects. Diatoms are harmless against humans and pets and are completely natural.
September 22, 2019
0

found this helpful
Those beetles Im pretty sure I have in he hundreds they come into the house and there are heaps around the edges of the floor boards they are in the mortar, wardrobes pretty much every where I look especially in all the wood cabinets they drive me nuts I just vacuumed and clean and there back I have so many holes in the mortar I spray and vacuum all the time I dont know where they are coming from I am obsessed in finding out where the main nest is they have taken over my shed and house they are in everything and they are very small but must have been here before I brought the house what is the best way to eliminate them I bomb all the time and spray everything but they just keep coming in what is the best spray to use thanks and they do bite
June 13, 2020
0

found this helpful
it is very tiny and are coming from every where at my house it cause a rash on my body when it crawling up on me it is drives me crazy
June 30, 2018
0

found this helpful
It looks like a ground beetle. The link below has a photo:
This link gives more information about them being generally harmless and why they may be inside:
www.catseyepest.com/.../ground-beetle
They are beneficial to gardens so if you can get past the ick factor, take them outside.
July 1, 2018
0

found this helpful
This is some kind of hard-shelled beetle. You can spray an insecticide.
July 27, 2018
0

found this helpful
you will be happy to know that this is absolutely NOT a bedbug. EVerything else is pretty much gravy
Add your voice! Click below to answer. ThriftyFun is powered by your wisdom!
Published by ThriftyFun.
© 1997-2020 by Cumuli, Inc. All Rights Reserved.
https://www.thriftyfun.com/Identifying-Tiny-Black-Bug-on-Sheets.html