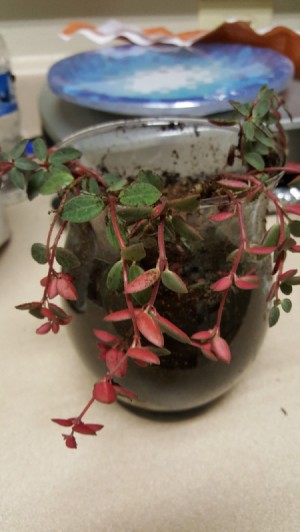 I received this plant last September or so, and I kept it in my office on the window sill (facing south). Once the semester ended, I brought it home with me and put it on the window sill with my other plants (philodendron, aloe, ivy, not a clue what kind plant, but it's solid green, and Wandering Jew). This time it is facing north because all of my windows face north (apartment life). I keep it away from my cats as they are not allowed in my "plant" room, although they do get in there from time to time (one likes the ivy and another likes the WJ), but they leave that one alone.
I noticed that the vines that were hanging away from the window were dying/dead, so I decided to check it out. I ended up repotting it because I had overwatered it so the soil was awful and rotten eggy; it doesn't seem to drink nearly as much since I've brought it home. I made sure to rinse the rocks and moss (I think?) at the bottom, dump the soil, and rinse the roots and upper moss before putting it all back in order.
But, I really need to know what this plant is so that I can properly care for it. The person that gifted it to me didn't have a label for it, but she linked the product info from the terrarium kit she ordered on Amazon, but I don't see any plants that match mine. It was little when I got it (because it was a "baby") and it grew a lot in my office. I plan to take it back to my office in August when I return (I'm a teaching assistant and I'm not there much over the summer). I have tried every combination of phrases on Google but nothing quite matches, but I could have something wrongly named (maybe it's not a vine or an ivy?).
Thank you all so much in advance! And please excuse the less-than-immaculate jar.