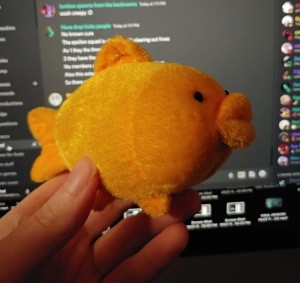 My boyfriend bought this fish toy at a vintage shop, and found it in the baby section of the store. It was sitting in one of those toy baskets.
We've searched for months on what the heck kind of toy this could be or where it came from, but what's really made it difficult is the tag was cut off. We tried searching under many tags: baby toys, orange fish toys, keychains, dog toys, cat toys, vintage fish plush, etc. but nothing.
The fish has knit eyes (not bead/a hard material) and is made out of yellow-orange/golden synthetic acrylic fiber. We're assuming it's vintage because well, it was found in a vintage shop. It's also very small (palm sized). We also had to sew the bottom of him shut because he popped a seam.
Does anybody know the origin of this fish toy and if there's more? We've been splitting our heads over this so any information would be very much appreciated!
The plush's name is Jimilie and we love him very much.