Determining the Value of Old Reel Mowers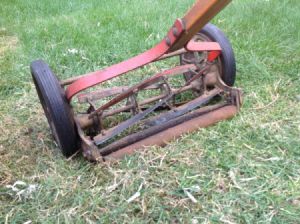 I believe this mower was my grandfather's. I would guess the 40s or 50s? The handle says "New Favorite" -- American Lawn Mower Co. Can anyone hazzard a guess? Of course I could never sell it, because I can't keep the carb clean on my Toro!
Any leads on a manual would be appreciated, too. I would love to raise up the cutting height, but it appears maxed out.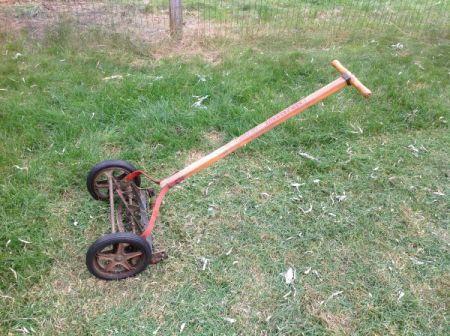 Answers
August 28, 2015
1

found this helpful
You will need to do some research to find a value. Search online for possible buyers and collectors and check EBay and Craig's List for prices of similar mowers.
Read More

Answers
150 More Questions
Ask a QuestionHere are the questions asked by community members. Read on to see the answers provided by the ThriftyFun community or ask a new question.
Answers
August 9, 2020
0

found this helpful
Best Answer
I see the name Wells Co on the wheel of this mower but when I look up this company there is nothing about it at all. I can give you an idea about how much this is actually worth but not how old the mower actually is. These push mowers are listed for sale around $60-70 on eBay. They normally sell for right around this price so that would be the value of the mowers. Your mower is in poor condition and needs quite a bit of work. If you'd like to restore this mower you may get a high price when you try to sell it. If you'd like to learn more about this mower I would like to suggest that you visit a vintage lawnmower forum and post the images there. There are a lot of collectors on this forum and they know quite a bit of the history of different mowers such as this one. I did find a company called Wells & Co online but this company seems to deal with beer brewing now and not lawnmowers.
Answer

this Question
Answers
July 30, 2020
0

found this helpful
Best Answer
These types of mowers sell for 60-75 dollars online. That is the average value that people are willing to pay for one. There are a very few cases that a person has paid a bit more for one of these. That normally is through an online forum for lawnmowers. There could be a person has looked around for years for this very mower and they are willing to pay you a bit more to get it for their collection.
Answer

this Question
I have a Sears rotary mower I just purchased to restore. It has a brass plate on it with model number 1 2 3. 8161 and I was just wondering how old the mower is and maybe what year it was made, etc. Also I would like to know if there is a certain way to paint it. It has baby blue on the lower part of it and a red handle.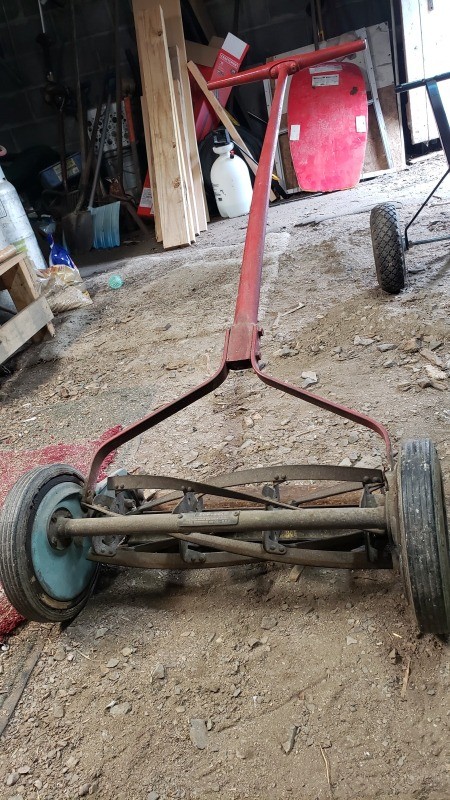 Any help would be appreciated.
Thank you.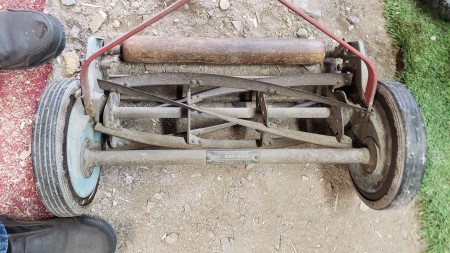 Answers
June 9, 2020
0

found this helpful
Best Answer
I have found a manual for an old reel mower from Sears. I know it may not be your mower but in cases like this the information in the book would work to restore your mower and give you a good idea how to sharpen the blade, oil the mower and bring it back up to mint condition. www.worthpoint.com/.../vintage-sears-roebuck-18-inch-1819646675
Here is an excellent forum for you to join that talk about reel mower, how to restore them and the history of different mowers. I can not locate any information on this mower and I'd like to suggest that you visit this forum for some help. I was hoping to find an image of the mower that a person has restored in order to help you reppaint your mower but I was not able to do this one. Here is the link to the forum. www.rcuniverse.com/.../9603955-vintage-craftsman-power-reel...
June 10, 2020
0

found this helpful
Best Answer
You did not ask about value so I'm assuming you wish to refurbish your mower for yourself or maybe sell it after refurbished.
It would be nice to find an old manual or even a brochure but these are very difficult to find but occasionally eBay will have one listed for sale (unfortunately Worthpoint only provides information on items and does not have anything for sale.).
You may be able to ask your question on one of the lawn mower forums as they have very knowledgeable members.
I think it is a little unusual that your mower has Sears, Roebuck & Co. and does not have Craftsman.
You will have to join forums to ask your questions.
www.oldlawnmowerclub.co.uk/.../faq-list
thelawnforum.com/viewtopic.php?t=10497
aroundtheyard.com/.../index.php?sid=662474f829804ff2cf31e90b8c7ee9bc
Answer

this Question
I have an old Craftsman (Yard Man) reel mower, model # 123.81730. The tag says it was manufactured by Yard-Man, Inc. I cannot find any information on it online.
Does anyone know where I can find any information on it, or what the value of it is?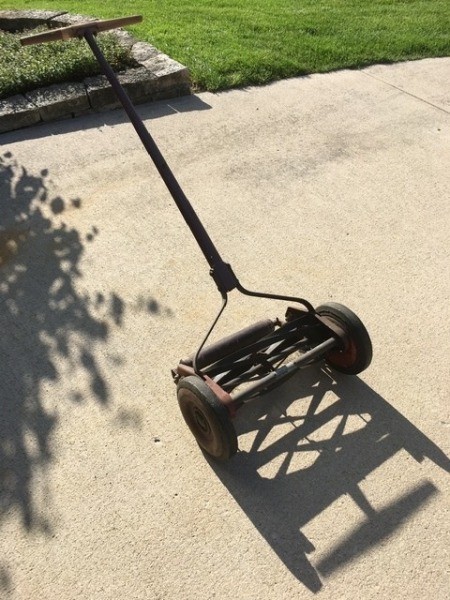 Thank you.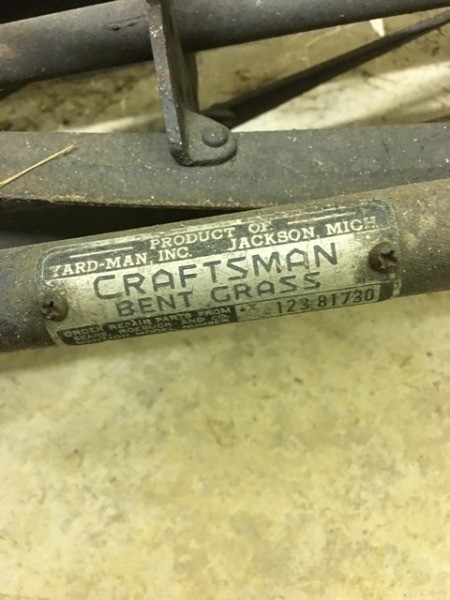 Answers
May 30, 2020
0

found this helpful
Best Answer
I have not seen any evidence of these being very collectible so you would have to be looking for someone in your area that is interested in having a reel mower. According to where you live there may be people with almost perfect lawns that may be interested.
I could not find any sold listings of this particular model and that is the only way to state a 'current value' but this would not hold true with a mower as no two will ever be in the same condition nor sold in the same area.
I would suggest you list the mover on any site that has local listings so you can list it as 'pick up only' - Craigslist, USA4Sale, offerup, letgo, and etc.
You can start your price at a higher price - even $100 and just lower it if no one seems interested. Post a good description and several good pictures. These sites are all very easy to use.
You can also ask question on this site.
May 30, 2020
0

found this helpful
Best Answer
If it's in good working order, and sharpened, you can easily get $90 for it. Folks can buy a new one on Amazon for $60 or so, but they are NOT sturdy and require more sharpening.
If it's sharpened you could even get $120 for it
People still want these, for utilitarian purposes.
Answer

this Question
I have my grandpa's old reel mower. It says Defiance. B 60, 1906. It still works, but the blades need sharpening.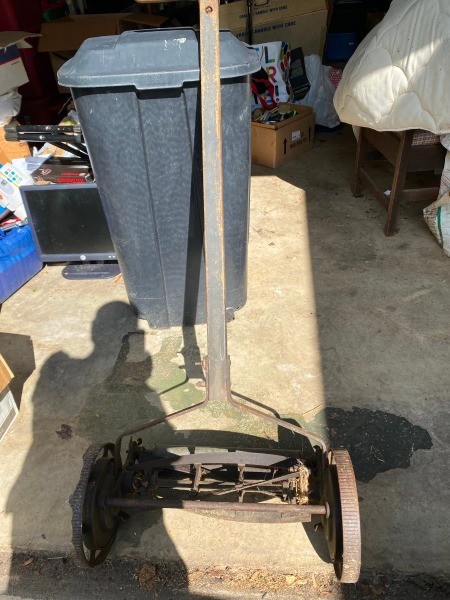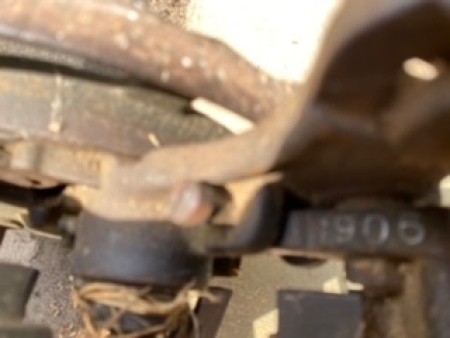 Answers
Answer

this Question
Answers
December 23, 2019
0

found this helpful
Best Answer
It sounds like you have just purchased this mower and are interested in learning how to use the mower and more about the mower. Here is a guide that is online about how you can adjust the blades on your new reel mower. homeguides.sfgate.com/adjust-cutting-blades-reel-mower.... There are other guides about the mower that you might find useful and also helpful.
I can't seem to find a guide about the mower or even an old user manual to help you understand the mower better. However, I did find a few sites that if you have a problem learning about the mower or even how to use it, you can go there and ask your questions about your mower. This site has a list of all the most FAQ about the mower. You can find a lot of helpful information here - www.reelmowersetc.com/FAQS.html
Answer

this Question
I was wondering if anyone had an idea what my grandfather's vintage Adams Presto push mower is valued at?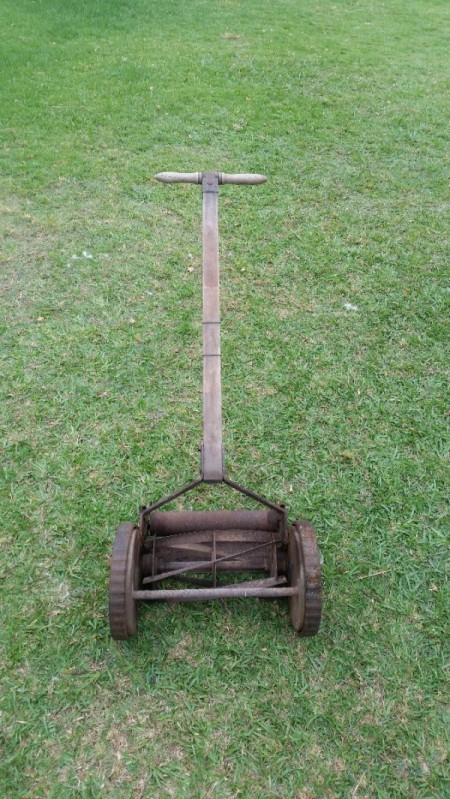 Answers
October 22, 2017
0

found this helpful
Best Answer
The Adam's Presto push lawn mower is from 1932.
If in good condition (looks like yours needs a lot of clean up) it could be worth $100 or more as there are not a lot of these around.
Here is a link that gives a little history about this mower. You can also ask questions (create a free log-in account first) and someone may be able to answer any questions.
Here is another link that has a place to ask questions about vintage lawn mowers.
Answer

this Question
Does anyone have information about these machines?
Answers
December 15, 2017
0

found this helpful
Best Answer
Information on Royal Enfield: There does not seem to be very much information available on these machines.
I am surprised that you did not have more luck with the Old Lawnmower Club but their forum is usually dedicated to just overall interest in a mower as well as questions about repairs.
Although older posts, you may be able to gleam some information from this site:
It does appear there are links to ask questions.
It really appears that Royal Enfield was more into the manufacture of motorcycles much more than lawnmowers and many of these can be found for sale whereas I have been unable to find a mower for sale or sold on any outlet.
Answer

this Question
Answers
April 2, 2018
0

found this helpful
Best Answer
This is a very difficult item to research because there are just not that many vintage mowers listed on auction sites and that is where your best "guesstimates" of value can be found.
There was a similar mower listed on eBay for $200 but it was listed as "parts" so that means it was not running and it was also listed as "pick-up-only" which means you would have to be in their area or within driving distance as shipping would be too expensive. This mower was listed several times and did not sell. You can check out the listing here.
Here are some vintage mowers (mixed) presently listed on eBay so you might get some idea as to what people are listing (most are pick-up-only). i checked shipping on one mower and it would have been $500 and that may be high but still??
Here is a link showing more mowers and a couple sold (green numbers).
You might keep checking these sites and be lucky enough to see a similar mower but no telling how long??
I would suggest you check your local Craigslist for similar mowers and if you want to sell, then Craigslist would be the place to list.
You can start your price at whatever you wish and lower it if no one shows an interest.
Be sure to post the listing with better photos and a very good description.
There have been sites that offered information on vintage mowers but it appears none are available now.
Answer

this Question
Published by ThriftyFun.
© 1997-2021 by Cumuli, Inc. All Rights Reserved.
https://www.thriftyfun.com/tf21944645.tip.html