June 18, 2019
0

found this helpful
Is this what you are looking for?
www.webstaurantstore.com/.../5535452.html?utm_source=Google&utm_medium...
June 19, 2019
0

found this helpful
Thank you but no, and I looked at all their glasses on the website and a saw a few that were sort of what im trying to find but they were too tall and the foot or bottoms were wrong.
From my memories and a now intensive google search im beginning to think it may not be produced any more.
They are very common in the 50s - 70s US roadside diners.
June 19, 2019
1

found this helpful
Are you talking about something like this:
www.vermontcountrystore.com/.../glassware-drinkware
First row of glasses?
Hope you can find what you are looking for. Have you tried eBay or Etsy searching for "vintage diner glasses"
Sometimes a broad search will net you what you want! Post back with an update!
June 20, 2019
0

found this helpful
No, but the shape is close to this, but thicker glass and plain side (no indentations) with the "scalloped" base being only 1/2 inch of the bottom.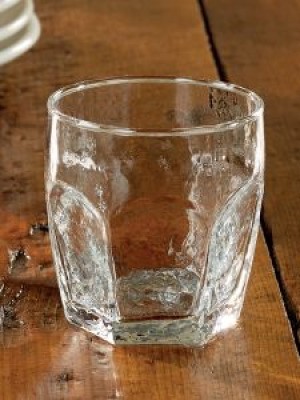 June 20, 2019
0

found this helpful
I just spent the last hour searching eBay glassware and found nothing, here is a drawing by me of the glass or "tumbler" ... I am no artist! and it was just a quick sketch from memory but the glass I tried to draw was so very common at one time I had do idea how rare it now is.
The glass is thick, and clear, with a sharpley scalloped or notched foot or base that is about 1/4 to 1/2 inch.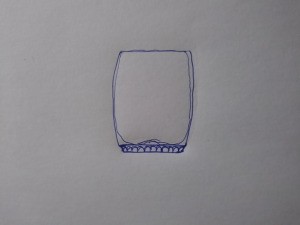 June 20, 2019
0

found this helpful
Oh, that is nothing like what I envisioned. I think tumbler is right but other terms to try are whiskey, scotch, old fashion or lowball. I did a search and saw many beautiful glasses but I couldn't find one like you drew.
Good luck in your search. If you ever find one, I hope you will let us know. :)
June 20, 2019
0

found this helpful
Without a picture it will be very difficult to find your glass.
I'm assuming you have a particular (special?) reason for wanting to find this glass but were you looking to purchase or?
If you could draw a picture of what you are looking for I believe someone may be able to help you find it.
The picture does not have to be pretty but just to give a better idea as to what you are looking for. It is easy to post a picture to your present listing.
You could also present your drawing to older restaurant supply stores to see if they can help you. There are usually several stores in medium to larger cities.
June 20, 2019
0

found this helpful
I can visualize the type of glasses that you mean. I would search for "water goblet" as I think that is a common name for this type of glass. I found a few contenders but nothing concrete. Here is the closest but it is restaurant supply so they are selling a whole case (12).
www.restaurantequipmentsolutions.../LIBB-3212.html?utm_source=froogle...
You might try antique stores in your area as well as online.
Good luck!