Pghgirl40
Bronze Feedback Medal for All Time! 196 Feedbacks
August 25, 2019
0

found this helpful
Best Answer
Can you please show the rest of the necklace?
It looks like there are some rhinestones in the top left?
At first glance it looks vintage 1970s, costume, but I would like to see more to see if I can figure it out.
The CC is not familiar to me and could be a store brand or a custom piece someone made in a class and that was the maker's initials. I see that all the time.
There are a lot of jewelry marker websites out there and this is my favorite. Maybe I missed it, but I don't see it here:
www.illusionjewels.com/costumejewelrymarksc.html
Post back with more and maybe something will spark a memory!

August 26, 2019
0

found this helpful
Here you go, i attached the photos.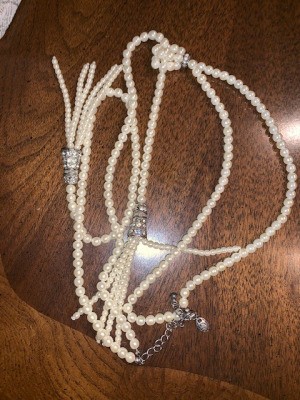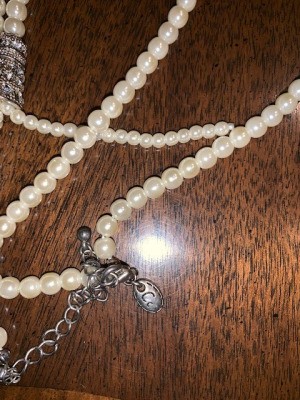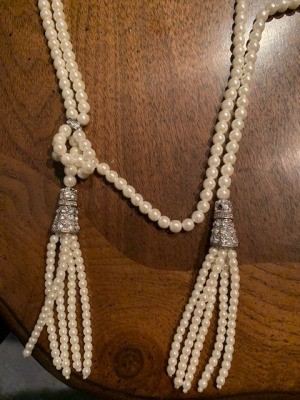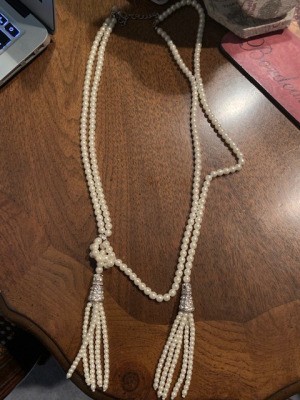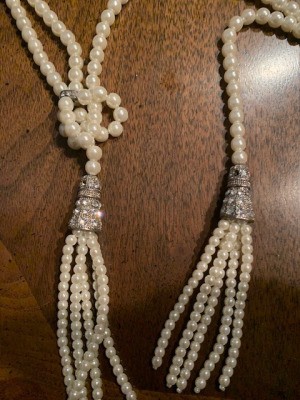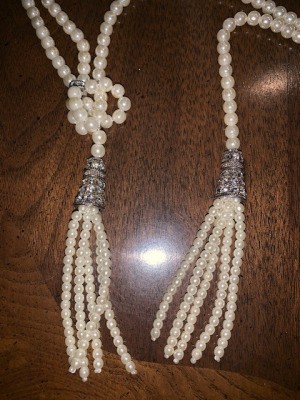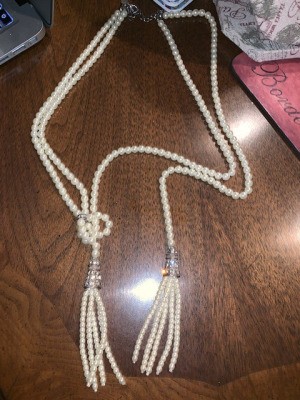 Pghgirl40
Bronze Feedback Medal for All Time! 196 Feedbacks
August 26, 2019
0

found this helpful
Best Answer
Thanks for posting the great photos!! You have a 1920s flapper style tassel necklace. It looks to be from the 1960s or later. These are often called Great Gatsby pieces--from the book the Great Gatsby.
I would double check with a jeweler just to make sure they are faux...I know there is the rub them on your teeth thing and if they feel gritty they are real, but ewww...I can't do that. It is like nails on a chalkboard for me :(
The metal clasp and cc lead me to believe they are faux--but always best to check with someone who can see and test for themselves.
I still can't place the CC and am leaning to a store brand, but which one is the question. So many tried to "emulate" Chanel with two c's in their logo. Nordstroms and Dillards both had store brands with c's in them..the names escape me...maybe someone here will remember.
This style is not as popular was it was in the 1960s. If is faux, if they sell, they sell between $10-15.
Sadly where I am real pearls aren't fetching much these days either. I took a set in a while back and whatever piddly amount they offered me, I brought them back home and set them aside until they become more popular again. Yes, they are classic, but jewelry values are cyclical.
Post back what you learn!! Thanks again for more info and sharing!

August 27, 2019
0

found this helpful
Thanks!!! I am sure someone will buy for Halloween ha!

poehere
Bronze Post Medal for All Time! 105 Posts
August 25, 2019
0

found this helpful
The necklace does look like vintage costume jewelry and it is hard to tell because you are not showing the who image of the necklace. The letter C could mean a few different things on this piece.
I would need to see more of this in order to go to a site online and dome some further research. If you could post another image this would really help a lot.

April 17, 2022
0

found this helpful
I have a pair of pearl necklaces that I know are real, but I just dont know who to show them to. I cant even see the brand I can send pics if you ever have a free chance! Thank you! Mark