Iguana Photos
Photos
Share on ThriftyFunCheck out these photos. Click at right to share your own photo in this guide.
Sambo is a 10 year old iguana. I got Sambo for my 50th birthday. He was only 8 inches long. Now Sambo is 5 foot 7 inches and 14 pounds. He is trained to GO outside, loves to be rocked, and is hand fed. He likes to sit in the sun all day.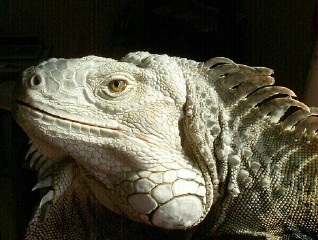 By Marty K.
Editor's Note: We checked with Marty to make sure the size wasn't a typo. Sambo is over 5 feet long!
Dizzy Lizzy is about three years old. She is an almost 4 foot Green Iguana. I purchased Dizzy Lizzy from on the internet from an locally placed ad. She loves to climb. Dizzy Lizzy as all iguanas like to be up high. When we hold her, she climbs to the top of our heads and just sits there. She also likes to walk around the house and explore.
Dizzy Lizzy is not just a pet, she is actually a very loved member of our family. We feed Dizzy a very healthy diet and bathe her each and every day, just like one of the kids. ;-)
By Mary from Camden, MI. USA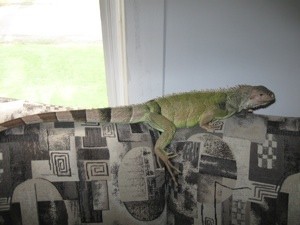 It's a dragon! It's a beast! It's awful! It's fantastic! It's so ugly! It's spectacular! I can't decide. But I sure am impressed!
This is an iguana that my sister sees every day outside her condo in Miami. She says he gets a lot of attention (I bet!) and doesn't seem camera shy in the least.
Source: My sister in Miami, FL
By Painterlee from Indialantic, Florida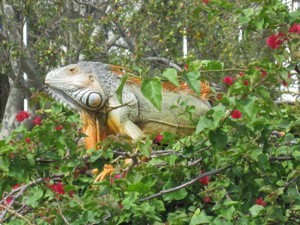 Rex is a 7 year old Green Iguana. I adopted her from my older son while he was going into the US Navy.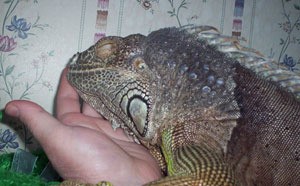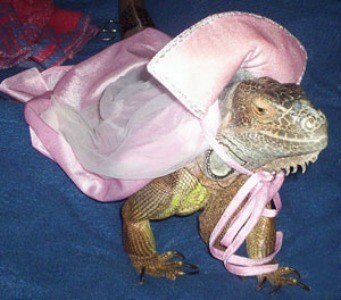 She likes to sleep in the bed with me, her mommy. Rex is a ray of pure sunshine, if it wasn't for her, I wouldn't be alive right now, she gives me so much hope for the future and gives me a reason to get out of bed in the mornings. We have an awesome relationship and I am truly blessed to have this young green lady in my life. I was diagnosed a while back with some pretty bad ailments and rarely got out of bed, Rex came into my life and turned it around. Thank you Rex
By Igmommy from Tn
Everyone calls him Eeagads, but his given name is Sir Eeagads. I'm unsure of his age but I think he is around 9 or 10 years old. Eeagads is a giant green iguana

This beautiful boy is my friend (Kris') large green iguana, I took their picture a couple of years ago. He likes to go outside and walk around, and he loves to climb anything and everything.

If your child wants an iguana, show him/her this photo and tell them that Eeagads is only a few years old and is nowhere near finished growing, so he will probably get much biggerrrrr

By Igmommy from Sweetwater, TN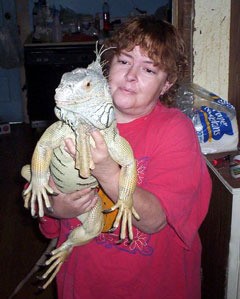 PeeWee is a green iguana and is around 2 years, 9 months old. PeeWee was a rescue in really bad health when I adopted him on Christmas Eve 2005.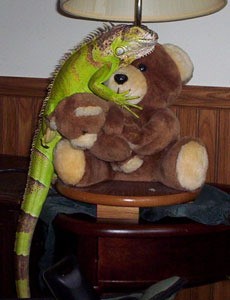 Read More...
Rex is 7 years old and a Green Iguana. Rex was adopted by myself several years ago when her former owner (my son) went into the Navy
Read More...
Rex would like to take the time to simply say..... MERRY CHRISTMAS and have a HAPPY NEW YEAR
Read More...
Zaffari loves to eat and chase the cat around the house.
Related Content