By regina (Guest Post)
June 29, 2007
0

found this helpful
she is adorable but i heard they were nasty and mean. is this so? is she litter box trained? how big is she?
By Debbie (Guest Post)
June 29, 2007
0

found this helpful
Love the outfit!! That is one doted on iguana!!

June 29, 2007
0

found this helpful
ahhhhhhhhhhhhhhhhhhhhh just wanted to say so gorgeous my daughter has a 8 year old RED EAR TERAPIN HIS NAME IS TOM AND I THINK HE IS SO GORGEOUS TOO.

June 29, 2007
0

found this helpful
Looks like she is smiling in her pretty pink foo-foo outfit how stylish. I am glad she is there for you and
given you inspiration. All God's creatures are lovely.
Me I prefer to cuddle up to my doggies (oh of course
hubby too!). I am just glad Rex came into your life.
She looks like she likes the attentions.
Last but not least,
Please Thank you son for his service. My dad was
NAVY WWII and my husb GULF WAR NAVY Veteran.
Your son is admired by many. We will pray for his safe return. Please contact your local Veterans of
Foreign Wars to join Ladies Auxillary. They send care
packages to service men and women and they are
great support for you. You may just want to go to
a meeting you will find friendship and support.
Enjoy! Your son is our prayers.
By AzDana (Guest Post)
June 30, 2007
0

found this helpful
Gorgeous iguana and the outfit is so pretty! I didn't even know iguanas were friendly, so your pictures were both entertaining and educational. Thanks for sharing and say Hi to Rex from all of us.

Pat Giles
Gold Feedback Medal for All Time! 791 Feedbacks
June 30, 2007
0

found this helpful
That is a beautiful animal/human story and I'm glad you shared it with us. I adore her pretty pink "gown"! God bless you!

Stacey Silva
Silver Feedback Medal for All Time! 453 Feedbacks
June 30, 2007
0

found this helpful
What an AWESOME story!! I'm so glad that you've found each other, it's wonderful that our pets give us so much "life!" She's a beauty! I want an iguana! :)
By Lynda (Guest Post)
July 1, 2007
0

found this helpful
I'll be showing this to my grandson who's been begging me for one, but we can't afford it. However, should we be given one, we have a wonderful new guinea pig cage that we could adapt for it that we found curbside, and I will agree to it based upon your testimony/experience with this one.
Snakes love me for some reason, perhaps because I'm not afraid and am warm?Perhaps your body warmth is as important as your tender touch? The iguana you have never had it so good. LOL God bless you and it. : )
By Judith Walker (Guest Post)
July 1, 2007
0

found this helpful
They can be nasty and mean. I knew a three foot one that could only be taken care of by this one child. He was a holy terror with anyone else. We all prayed for that thing to die. It was really that mean.
I am so happy that your son's Iguana has good manners. I do know that any pet that gets you out of bed in the morning is a true blessing. Hope your son comes home soon and your health improves.
July 3, 2007
0

found this helpful
Hello everyone that read "Rexs" story and felt compelled to respond, thank you and God bless you all, it was so kind of all of you to share your kind words, Rex is an amazing creature, however, i wanted to make it clear that these pets(companions-iguanas) are quite costly, they take quit a bit of money and time to care for and raise healthy, they grow quite big, by as much as 6 or more feet, rex has a nice temperment but every iguana is different, there are many, many amazing iguanas out there but take much time, care, love and much much more to grow and be healthy, the vet costs by themselves are staggering, and the diet iguanas eat is so very important to their health and well being as UVB lighting and the proper heating and humidity, a person wanting to take on an iguana must be committed to educate themselves and the proper care and requirements of an iguana, I would definetly do some checking before getting one, because most of the time iguanas don't come to a new owner healthy and a sweetie, It would be great to be able to adopt an iguana, their are soooo sooo many of unwanted iguanas that need adopting so i would look into adopting one instead of purchasing one, but please educate yourselves with the care of iguanas and such before going out and getting one, they eventually end up needing either a room of their own or a huge cage to live in so you can't just put them in a small cage and think they will only grow as big as the cage is, with proper care, they get very big. Rex is about 5 ft long, and weighs about 12 or so pounds. she is a grand old girl, once again, thank you to everyone that responded to my posting, it truly came from the heart. if anyone has any other questions on iguanas or about Rex, feel free to email me directly with Rex in the subject line or post on this subject here. take care everyone and God Bless, here is another nice pic of Rex helping me keep the house clean..lol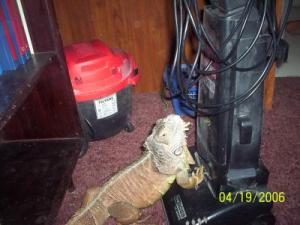 badwater
Silver Post Medal for All Time! 263 Posts
July 9, 2007
0

found this helpful
I saw on the tv news where the iguanas can spread salmonella poisoning to everyone and everything they come in contact with. Wash carefully after handling one.

July 10, 2007
0

found this helpful
He's Gorrrgeous! I mean SHE. I mean....
Bless you and your family and this amazing beast. It must be such a challenge because finding info to continue to fill his needs is not as easy as for those of us who share our lives with dogs, cat and birds.
I used to know a guy who had perpertual new scratches on his forearms from his iguanas although he loved them to bits. The story ended sadly with an infection, in the iguanas I mean.
Reptiles arent for most of us but I have special respect for those who do provide a harmonious home and adequate care for them. Love is in all things.

August 12, 2007
0

found this helpful
hi there, i felt compelled to message you and tell you how lovely your iguana is. We had one for about 12 years. we bought it for our mother for mothers day. when we got back to get him they had sold ours to someone else and all that was left was this little one that looked kinda ragged to say the least, but we had already dropped 500 on him.
And i must confess he was the most wonderful pet. He never bit or whipped us or anything. he had the free run of our house and used the bath tub as a toilet. He was just wonderful. his name was Icky. I miss him greatly and it was absolutely wonderful to see someone who loves theirs as much as we did ours. much luck Sarah

November 23, 2009
0

found this helpful
Aw.. how wonderful! it's great to see another iguana getting lots of love! I had lost a wonderful cat due to an illness, and couldn't see getting another to replace it. and Ziggy the Iggy came into my life. He has put the joy back into our lives. Want to hear about him??I love talking about him. I just put up his Christmas tree. ;-0 It's tiny, and cute.