January 22, 2008
0

found this helpful
I would like to add a bit more about this beautiful healthy boy. Eeagads isn't so big and healthy by chance, his igmom takes very good care of him by feeding him the right foods, providing enough UVB light, keeping him warm enough and she takes him to his vet when needed. No iguana can live without these basic needs that I have mentioned, and it does cost quite a bit to raise and care for these green guys. You can't just get one from a pet shop, take them home, put'em in a aquarium and forget about them, they need plenty of room and it is so important they have enough love too, how would you be able to live without love :(, anyhow, please, please, if you are thinking of getting an iguana for your child or even for yourself, do your homework, these green guys are absolute darlings to love, but they need plenty of love, the right foods, housing and so on and so fourth to thrive, can you provide that?
think about it.
By (Guest Post)
January 22, 2008
0

found this helpful
Eeee Gads is right! Gives me the shivers....glad you like these kinds of "friends"...they need special people like you as I couldn't do it!!

January 22, 2008
0

found this helpful
WOW! That is THE coolest iguana I have ever seen. What a great pet! I've never seen one so big- What a beautiful boy!

Janice C.
Silver Feedback Medal for All Time! 418 Feedbacks
January 23, 2008
0

found this helpful
This is the most unusual photo I've seen on Thriftyfun. Thanks so much for sending it in. Eeagads is a very beautiful creature.
I really hope people who think they want a pet like Eeagads will pay attention to what you say.
He needs lots of proper care.
By Fran from CT (Guest Post)
January 23, 2008
0

found this helpful
He certainly is a beautiful boy. A friend of mine has a girl and we call her "Miss Iggy". She sits on his shoulders while he works on the computer. All of God's creatures are beautiful. Thanks for sharing.

January 23, 2008
0

found this helpful
my neighbors long ago got an iguana and
they got it all kinds of stuff and the he got bigger
not as big as Sir Eeagads (cool name) but they
could not keep him as he needed more space
and cleaning up after him was quite the chore
personally he terrified me when he was on the window sill I would jump,.my son liked it thoughbut like all pets they need CARE and time and love

January 30, 2008
0

found this helpful
Do you have any more picture of him? I still think he's the coolest iguana EVER.

November 23, 2009
0

found this helpful
Thanks for posting about Sir Eeagads! he is adorable! I have a baby iguana and have had so much fun with him. He not caged, and keeps to his sunshiney corner (with 4 plastic plants for his roaming pleasure, two are Big) I was lucky he came into my life. ~take care~ lizzy
oh, his name is Ziggy the Iggy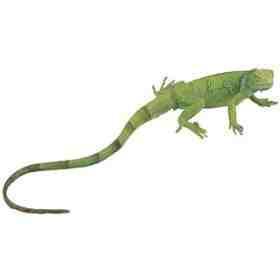 May 5, 2011
0

found this helpful
Your iguana is much bigger than mine but I know our love for them is real.