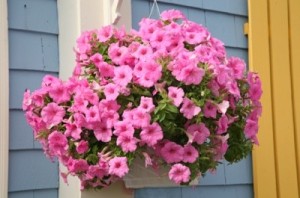 With Memorial Day behind us, the unofficial start of summer is here. If the increased time you've been spending outdoors has made you notice some of the unsightly features of your home's exterior, then set aside time to increase your home's curb appeal. Depending on how large your home is and how bargain-savvy you are, achieving a fresh and increased curb appeal can be accomplished for $150 or less. Here are some simple, fun and budget-friendly ways to give your home's exterior a boost.
Clean It Up
The first step to help your home's exterior look better is to clean it up. Over the winter and spring, a lot of dust and dirt invaded your porch. You may not notice it, but if you take out a broom and begin to sweep your porch, you'll notice how much dust and dirt need to be cleaned away. After you've swept, give the porch a wash with a garden hose. For an extra dirty porch, pour a bucket of soapy water (use mild soap, such as dish soap) over the porch floor and then hose it down.
The siding or brick on your home could probably benefit from a wash as well. Use a garden hose with a sprayer attachment to remove the dirt. For tougher stains, use a sponge and a bucket of soapy water to remove them. Note: Do not use a powerwasher. Powerwashers can remove the paint from wood siding and damage vinyl or aluminum siding by forcing water behind the facia boards. If your siding is still dirty after washing with a garden hose, then consider hiring a professional exterior cleaner to do it for you.
Flower Baskets
Hanging flower baskets is one of the simplest ways to add color to your exterior and give your porch a boost. Select a flower color that will complement the color of your home. Choose flowers that have not bloomed. While full-bloomed flowers look great at the store, they're actually a sign that they've been at the store for a while. Instead, select a basket whose flowers are just starting to bloom and bring them to life at home.
Shrubbery
Trimming the bushes and shrubbery around your home will give it a clean and manicured look. Set aside a few hours to trim the bushes and for the cleanup involved afterwards.
Paint
There's nothing like a fresh coat of paint to increase your curb appeal. You don't need to paint the entire exterior or entire porch to achieve a fresh, new look. Instead, paint the posts and rails in a bold new color to complement your brick or siding. Additionally, paint your front door with an inviting and bold color to match the exterior.
Remove Clutter
If clutter is making your exterior look unorderly, then make a plan to organize it and put things away. Start by removing garbage and recycling bins from the side of your home to the back. If you store bikes, tools, hoses or other items around your home, move them to the back. If your hose is often left lying on your porch or lawn, purchase a hose holder that can be affixed to the wall for easy storage. For porch clutter, purchase a plastic container in the size and color of your choice. Plastic storage is great for storing balls and other items you may have around your porch.
Lighting
Low-voltage outdoor lighting is a huge trend this year. Add a porch light or other form of landscape lighting, such as driveway lights. For a super budget-friendly option, hang some pretty lanterns in your yard.
Accessories
Mailbox: Replace a worn mailbox. Check the Web for some great mailbox deals.
Address Sign: Be creative and make your own by yourself or together with your children as a family project. Select a material, such as wood, and get creative!
Porch Mat: Check for sales and clearance markdowns for porch mats in local stores. You can often pick up a great new porch mat for under $20.
Door Handle: Switch your door handle to a nice, new, brass handle.
Read More

Comments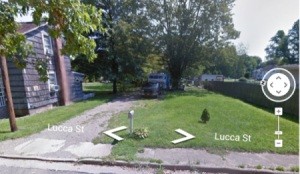 Here is what the front of my house looks like. There is a trailer back there that no one can see (behind the camper and vehicles). So everyone thinks that my drive is the neighbor's drive and parks in our driveway or we miss out on things (for example: when the trash department distributed recycle bins, they passed up my property all together).
I would need cheap/inexpensive ideas to make my property look like it is separate from the neighbor on the left in this photo.
Thank you ahead of time!
Answers

xintexas
Silver Feedback Medal for All Time! 278 Feedbacks
June 2, 2014
0

found this helpful
I would put up a big wooden sign on the grass part with my address and an arrow pointing to the drive.
Answer

this Question