DianaHM
Silver Answer Medal for All Time! 440 Answers
March 16, 2021
1

found this helpful
You have the very beautiful antique Jacobean-style Writing Desk, late 19th/early 20th century.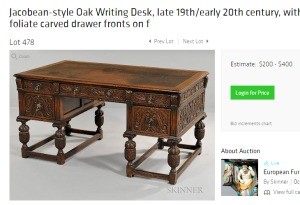 Judy
Gold Post Medal for All Time! 677 Posts
March 16, 2021
0

found this helpful
Look underneath the desk or inside the drawers for a maker's mark.

Ana
Bronze Post Medal for All Time! 140 Posts
March 16, 2021
0

found this helpful
You can contact this link for answers on your piece as well as value. www.sellingantiques.co.uk/.../ - you can also send your questions and photos to - www.justanswer.com/antiques -Also if there are any local antique furniture sales/appraiser that you can show your pictures to for answers that could help.
Value of antiques could vary from state to state.

March 16, 2021
1

found this helpful
These are beautiful desks when in good condition.
I know it is a Jacobean Writing Desk but the only examples that I could find are in very good condition (or appear so from the pictures).
Examples:
This one is very similar but has a leather insert top;
www.bidsquare.com/.../jacobean-style-oak-writing-desk-late...
This one is also similar but this listing has a lot of good information:
www.antiques-atlas.com/.../as079a272
As to maker: probably take an expert to tell you about that but you probably have a desk that was made by a company that sold to several stores and stores did not want an unknown 'name' attached to what they sold.
Your desk actually looks like it has been exposed to outside weather and may be really difficult to restore. All of the intricate details will probably be a long, time consuming job but still might look great when redone.
What concerns me here is your hand truck.
I do not know if this is how you have been moving the desk but I do not believe the cross pieces between the legs or the legs themselves should be put under the strain of holding up the heavy desk.
If it were mine I would place a rug or thick towel on the hand truck and pick the desk up with the top end on the truck and lean the desk top towards the hand truck/driver. This would give it a lot more stability and hopefully not break a leg or crosspiece. I hope you have a helper even if all they do is help keep the desk steady.

March 16, 2021
1

found this helpful
I'm sure you do this already but just in case --- be sure to remove all drawers before moving your desk.
Be sure to post back with pictures of your restoring project.

March 17, 2021
0

found this helpful
Thank you. No it was temporary and I had it just set on there thanks for the information

March 18, 2021
0

found this helpful
I'm glad to hear this as I was worried that something would break and the desk seems to be in good condition and just waiting to be restored.
Please post pictures of your work in progress.

Pghgirl40
Bronze Feedback Medal for All Time! 196 Feedbacks
March 16, 2021
1

found this helpful
Cool piece! Unless the screws were replaced, the screws appear to be more modern (after mid 1800s to today) and the dovetails are machine made as they are even so that would peg those at after the 1890s or later. The Jacobean revival style was popular (revived again) from around the 1890s to the 1940s, so your piece probably falls into that time frame.
I say probably, not definitely because the numbers written on the furniture are puzzling as most good brands of furniture used metal plates to identify their pieces, or paper labels--not what appears to be the black marker method I consider a more modern thing--so that could have been done by someone much later or it could be an even newer repro piece--made to look old.
If you have a reputable antique dealer in your town (someone you trust) I would have it looked at to see exactly what you have. You have a lot of great photos--which are greatly appreciated however when something could potentially be this old but has some questionable things it is best to have it seen in person as they can see up close and personal what we cannot see.
Post back what you learn! It needs some TLC but no matter the age, it will be a lovely piece if it is correctly redone!