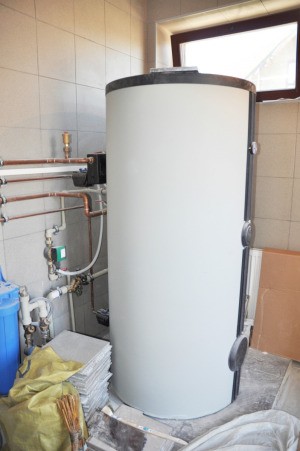 The water heater is the second biggest energy user in your home. Help it maintain the correct water temperature by adding extra insulation around the outside of the tank.
By Robin from Washington, IA
Read More

Comments

I have heard that if you wrap your hot water heater and pipes leading from it with a blanket it will help save you money. Has anyone tried this? What do you use to wrap the tank and/or pipes?? Thanks.
Lori
Answers
By Mary (Guest Post)
September 6, 2005
0

found this helpful
Best Answer
There is a special insulated 'blanket" that is used to wrap the hot water tank and it saves a ton of electricty (according to the hydro company!) At one time our provincial hydro company sent a man around who put the blanket on for us- can't remember but I"m sure we paid something for the service. There are cut out sections for the controls, etc.
By Karen in NH (Guest Post)
September 7, 2005
0

found this helpful
Best Answer
Living in New England it is a "must" that we wrap our hot water heater. The blanket is made from fiberglass and coated in a type of plastic. It fits snugly around the water heater and has its own fasteners. The pipes can be covered with pipe insulation, of which there are different types. The easiest & cheapest type is made of foam and has a slit in one side so you just slip it over the pipe.
Because it's made of foam, you can cut it to fit the length of your pipe. Both the hot water heater blanket and the pipe insulation can be bought at any home improvement store or hardware store. We noticed a big difference in our electric bills after we had wrapped our heater. I strongly recommend it.
By Jill (Guest Post)
September 7, 2005
0

found this helpful
Best Answer
The home stores like Lowes or HD sell kits for wrapping water heaters. It is insulation material with a tyvek type coat attached. You wrap the water heater with the coat and seal it with the duct tape enclosed.Putting the foam snap on wrap on your pipes is very helpful. I have that on all my hot water pipes under the house, in the walls and at the water heater connection.It comes in different widths, so measure the length you need of each size.
It has a slit so you just slide them on all hot water pipes to keep your investment protected.If you live in a cold climate, insulate the cold water pipes too to keep them from freezing.Cheap protection for peace of mind.Jill

September 7, 2005
0

found this helpful
Best Answer
I had considered wrapping mine, since it's in an unheated basement, but the water heater itself has a warning in big, bold letters not to use one. Are they maybe hoping my heating element burns itself out trying to keep the water warm or what?
TerryfromChilliOH

March 21, 2017
0

found this helpful
Best Answer
With modern water heaters, my understanding is that the blanket does not make a big difference unless in extreme conditions (like the folks with the water heater in an unheated garage). Modern one are pretty well insulated. Water heaters that use gas or oil, on the other hand, should not have a wrap - i have seen gas water heaters with the draft tube rotted out from an insulation blanket.
Also, must never block air intake on a combustion water heater due to ruinous condensation issues and total loss of efficiency. Pipe insulation seems like a much better bang for the buck and has the advantage of increasing your effective hot water supply.
Answer

this Question