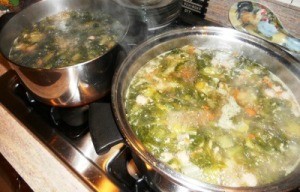 Tiny meatballs, chicken broth, escarole and more in this old-time recipe from my husband's grandmother. Serve soup with grated Parmesan to sprinkle on top. Make a big batch - it freezes well!

Total Time: 1 hour
Yield: 8 servings
Source: My husband's Grandmother, Esther
Ingredients:
1/2 lb lean ground beef
1 egg
2 Tbsp fine dry bread crumbs
1 Tbsp grated Parmesan cheese
6 to 10 basil leaves, chopped fine (or 1/2 tsp. dried)
2 Tbsp finely chopped onion (or 1/2 tsp. onion powder)
12 cups chicken broth (or two 46 oz. cans)
1/3 cup finely chopped carrot
2 medium-size heads escarole, washed well and cut into 1/2 inch slices
1/2 cup orzo or pastine (acini de pepe)
Grated Parmesan cheese to serve
Steps:
In a large pot, bring chicken broth to a boil. Meanwhile make the meatballs, chop the carrot and wash, slice and drain the escarole.
In a medium bowl, combine meat, egg, bread crumbs, 1 Tbsp. Parmesan, basil and onion. Meat should be a little more "wet" than dry. Mix well. Roll meat into 1/2 inch (or smaller) balls and set on a plate.
Add meatballs slowly to the chicken broth, stirring occasionally so they don't stick together. Cook for about 5 minutes. Add the carrot, then escarole and lower to a slow boil.
When escarole is limp, add the orzo. Cook for about 10 minutes until the orzo is tender.
Note: Make the meatballs by pinching off small pieces. This is the time consuming part, the rest is a breeze. Esther said great pride was taken in making them very small! Wet hands make rolling them easier. TIP: Escarole is sandy. Make sure you wash well, drain and shake off excess water.
Read More

Comments

I want to make wedding soup for the holiday. I looked at some recipes but I want to be sure it would be good. Any ideas to thrill my guests?
By joyce m mundie from Pittsburgh
Answers

November 30, 2009
0

found this helpful
Prep Time: 20 Min Cook Time: 2 Hrs Ready In: 2 Hrs 40 Min
Original Recipe Yield 1 gallon
Ingredients
1 (4 pound) whole chicken 1 large onion 6 stalks celery with leaves, chopped 9 carrots, sliced 1 sweet potato, cubed 1/2 medium head cabbage, coarsely chopped 2 (14.5 ounce) cans chicken broth 2 (6 ounce) cans roasted garlic tomato paste 1 1/2 pounds lean ground beef 2 eggs 1/2 cup dry bread crumbs 1/2 cup grated Romano cheese 1 (16 ounce) package acini di pepe pasta 1 cup grated Parmesan cheese for topping
Directions
In a large stockpot, place the chicken, whole onion and cans of broth. Add enough water to cover the chicken. Bring to a boil and cook until the chicken is falling off of the bones.
Remove the chicken from the pot and separate the meat from the bones. Tear chicken into bite sized pieces and return them to the soup pot. Remove the onion from the broth, chop and return to the pot. Add the celery, carrots, sweet potato and cabbage. Stir in the tomato paste.
In a medium bowl, combine the ground beef, eggs, bread crumbs and Romano cheese. Mix well with your hands then form into walnut sized balls. Add the balls to the soup. Continue to cook the soup for an additional hour, or until vegetables are tender.
Bring a large pot of lightly salted water to a boil. Add pasta and cook for 8 to 10 minutes or until al dente; drain. Serve the soup over pasta and top each bowl with a generous pinch of grated Parmesan cheese. Good luck.

December 1, 2009
0

found this helpful
If you have never tried this website they have great recipes and also have copy cat recipes - there is a good recipe for Italian wedding soup on cdkitchen.com - but my recipe from that recipe is: first for the meatballs my mom's recipe is to 1 lb. ground meat add 1/3 Cup of Italian bread crumbs and @ least 1 Tbsp of Parmesan cheese could use a little more and 1 egg - may need to add some milk as a binder if necessary and I also add some minced garlic 1tsp or even a tsp of garlic powder will do mix these ingredients and shape into tiny 1/2" meatballs bake @ 350 for 20 min in a glass baking dish until the meatballs are partially cooked very lightly browned but soft (not dark brown or crisp)
For the stock make ahead - use a roasting chicken in a stockpot full of water for the stock with 3-4 or more bouillon cubes along with some stalks of celery and carrots and chopped onions along with a bay leaf and a garlic clove to make broth boil this until chicken is cooked add then some ice to skim off any fat on top of the broth (could reserve celery stalks and carrots from this) and chop and add to soup later or --->to a soup pot add your broth that you have made along with 2 stalks of celery chopped fine and 1 onion also finely chopped and 2 carrots thinly diced.
Cook this until soft ADD to this your chicken from the stock you made that is diced small chunks and also add a few tsp of minced garlic or garlic powder (2-3) and in separate pot COOK the Acini Di Pepe pasta probably 1/2-3/4 of a 16 oz. bag according to directions once this is done strain and add this to soup along with meatballs and a 10 oz. pkg of frozen spinach once the spinach is thawed and combined in soup cook until soup is warm and then it is ready -
This is a great recipe and it also freezes well - so you can make it ahead and I also find that it tastes better even the next day as the flavors have a chance to combine and you could do recipe in stages such as make meatballs ahead and freeze and even do the chicken stock in a crockpot which is usually what I do if I'm planning to have for dinner on a weeknight then I just combine the broth and chicken with celery/onion/carrots and add the other ingredients pasta and spinach --->may need to add extra stock which i make out of chicken bouillon cubes if you don't have enough from the crock pot - i like to make lots of it and freeze it! so good!

December 2, 2009
0

found this helpful
I make this for my family and used it when I owned a small restaurant.
Large pot of chicken stock (I use chicken soup base availble in most grocery stores (not bouillon cubes) It can be a little salty so watch what you add. Your favorite meatball recipe made into very small balls cooked or cut the regular ones into quarters add to broth. Cooked chicken cut into preferred size and then add a small amount of chopped cooked spinach Simmer gently for about 10 minutes While simmering Preheat a prepared non stick skillet. In a blender put 3 whole eggs, 1 Tablespoon each flour, Parmesan cheese and water and a sprinkle of dried parsley whirl in blender and pour into hot skillet.
Cover and cook until done Remove to a cutting board and cut into small crouton size. I like to serve my soup over cooked rice (Not instant) but some like it over cooked fine noodles whichever you prefer. Put rice or noodles into bowl ladle soup over it and then top with "egg croutons" and finish with a sprinkle of Parmesan or Romano . Enjoy ! Original recipe from an old Italian friend! I keep most of the ingredients precooked and or leftovers in my freezer so this is not a labor intensive soup
Answer

this Question