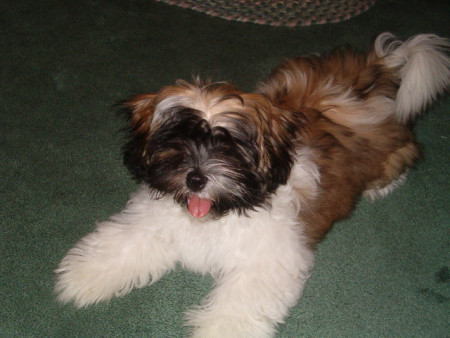 Your Pet's Age
4 months old and born on Christmas Day
Your Pet's Breed
Shih Tzu/Maltese/Bichon
How and when did you get your pet?
I saw a litter on the internet and inquired about the puppies and it was within my area. I drove to see them and chose a pup from the litter while they were eleven days old.
What does your pet like to do for fun?
Ivy loves to fetch a toy and return it. She has squeaky stuffy toys she runs around the room with in her mouth while squeaking and shaking it. She likes to play tug with an old sock. The simple things like a piece of ice slid across the kitchen floor is enjoyed. The ice she was playing with melted and she walked around looking for it. She loves to snatch at the bubbles from a wand and most recently, we took her outside for exploration time. Ivy paid attention to the birds in flight, listening to them and sniffing in the grass before lying down in its coolness. Putting on her harness/leash is no problem as she's willing to go outside. Ivy likes guitar music and tilts her head as she listens to it; no other instrument gets her attention quicker than a guitar.
Do you have anything else to share about your pet?
Ivy loves to play ball on the floor with us and while dragging an old sock around us while she chases it. She's learned to take short cuts to get to it sooner; she's smart. We took her outdoors on the deck on a windy and warm day and she stood facing the wind and a gust blew into her face. Ivy took her paw and smacked at the wind like that would make it go away. She makes us laugh a lot and does so many cute things while learning from her new experiences.

Add your voice! Click below to comment. ThriftyFun is powered by your wisdom!
April 22, 2015
0

found this helpful
She is just adorable! Thanks for sharing.
Add your voice! Click below to comment. ThriftyFun is powered by your wisdom!