July 17, 2020
1

found this helpful
When I went to the farmer's market last Friday, I purchased enough string beans to last for 2 cookings. A few days after that, my neighbor brought us some more string beans so then, I had enough for 3 cookings.
I had already wrapped my extra for the week so I wrapped the ones she bought as well. I cooked her's first because I wanted to see how the others would hold up.
Today, I cooked the ones I purchased last Friday and they have been in the refrigerator wrapped in newspaper for over 7 days. They looked a little dry but after washing and cooking them, we could not tell the difference.
This is good to know because we are just beginning to get string beans from our garden, a few at the time. Now I can just add to them each day I pick them.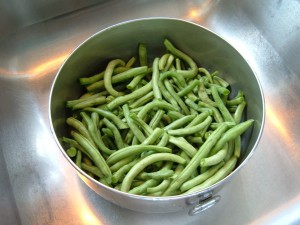 September 20, 2020
1

found this helpful
I also use paper,paper towel and sometimes a piece of cotton material to keep capsicum, cucumbers and leaf vegetables fresh in zip lock bags