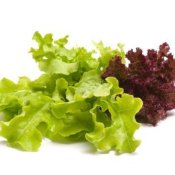 Because I live alone, it's less expensive to buy a whole head of lettuce or leafy green vegetable than in a plastic bag all by itself. When I get the head of lettuce home, I cut the core end off and remove any leaves that are bad. I wring a small terry cloth towel out with cold water and wrap the head of lettuce in it. I then put the head of lettuce with the towel in a plastic shopping bag, press out the excess air, twist the top of the bag and fasten with a clothes pin or twistie. I put this in the refrigerator.
About every second day, I unwrap the lettuce and cut off any brown that may have appeared. I have kept lettuce for up to three weeks that are fresh and good. When you remove leaves, do not cut off with a knife. Just pull off or cut off with kitchen shears.
By Clara Potts from Roswell, GA
Read More

Comments
To keep leafy greens fresh and crisp (grocery or garden) in the fridge, take the leaves off the stalk and place them in a colander and run cold water over them to clean them. You may spin the leaves somewhat dry, but not all the way! Then leave them in your colander with a damp paper towel over them!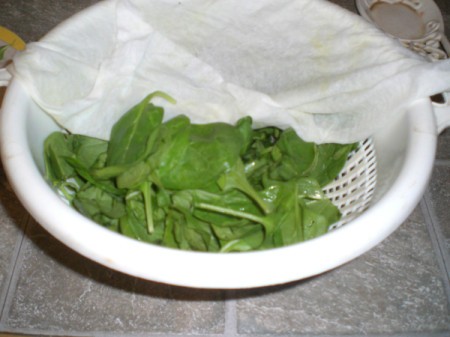 Read More...
How can I keep lettuce form rotting in fridge? The veggie bags with little holes are no longer on the market and I find the lettuce gets too wet in the veggie drawer.
Miriam from Southbury, CT
Answers
September 11, 2007
0

found this helpful
Wrap it loosely in paper towels, they will absorb moisture. Does your veggie crisper have a humidity control? If so, set it on lowest.
By Heather, Australia (Guest Post)
September 14, 2007
0

found this helpful
I store lettuce in a plain plastic bag and it keeps well. The other suggestion is to store it in a sealed plastic container.
September 14, 2007
0

found this helpful
My local health food store has a product labeled
EVERT-FRESH green bags I was having problems storing all veggies that are tender-- lettuce, green peppers, romaine. These bags have been a god-send-- and they really work.
good luck
September 15, 2007
0

found this helpful
I put lettuce in water - as with a cut flower - making sure the cut on the stalk has not sealed itself (if it has, I just renew the cut). The lettuce stays fresh. I just pull off leaves as I want them. I change or top up the water frequently.
By (Guest Post)
September 15, 2007
0

found this helpful
I also put a paper towel in the plastic bag when storing and change it every day or so to keep the moisture from gathering. Seems to help.
September 15, 2007
0

found this helpful
I, too, put a paper towel in the bag with my lettuce. You might also try laying a section of folded newspaper in your veggie drawer to absorb excess moisture.
September 15, 2007
0

found this helpful
I hope u don't wash your lettuce before putting in the fridge? That is a no-no as it will foster rot. I have had success with keeping my head of lettuce wrapped tightly in tin foil between uses. Wash only as needed.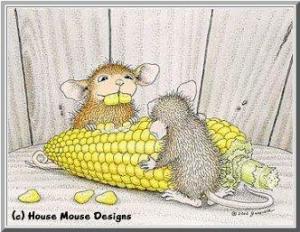 By Syd's 2¢ (Guest Post)
September 15, 2007
0

found this helpful
The original posting mentioned that they do not make the veggie bags with pin holes in them ... You can make your own by using your sewing machine (without thread of course) and stitch across the bag as many times as you want in a quilted pattern!
Ziploc quit making the vegetable bags quite awhile back!
September 16, 2007
0

found this helpful
Put a piece of burnt toast in the plastic bag with the lettuce. I saw this idea on a talk show.
December 17, 2007
0

found this helpful
I always remove the lettuce from the plastic, and wrap the lettuce in a moist cotton tea towel.. be sure to remove any excess water from the towel prior to wrapping.. This is also a good way to store left over salad..Just cover it with a damp tea towel, and place in the fridge.
April 10, 2008
0

found this helpful
Another tip to prolong the freshness of lettuce is to remove the core (the hard thing at the end) before storing it. It is best not to wash greens until you are ready to use them.
Read More

Answers
How do you keep lettuce from "rusting" in the frig and for how long?
Thanks.
By Pamela M
Answers
July 14, 2011
0

found this helpful
The rust is caused by an interaction between the knife and the lettuce. I use a plastic knife I found at Macy's but you can find them in lots of kitchen stores. It doesn't prevent the rust but delays it for several days.
July 14, 2011
0

found this helpful
What works for me is to place the cut lettuce in a storage container that is lined with a paper towel and then place a paper towel on top before putting the lid on. Doing this soaks up the excess moisture that makes the lettuce go bad more quickly. It takes about a week before the edges begin to turn brown and stays crisp for that long too.
Here's some scientific info about cutting vs tearing - Seems it really doesn't make a difference how you do it:
Read More

Answers