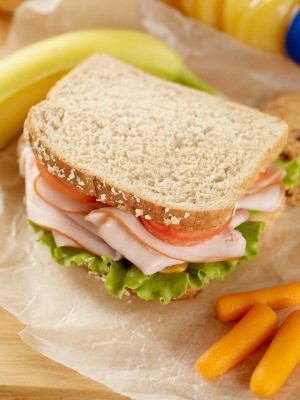 My son loves Bologna and Cheese sandwiches with Mayo, but I've always hated knowing that by lunch he was eating a soggy sandwich. SO, I started putting the mayonnaise on between the bologna and cheese so that the bread doesn't get soggy. It's worked wonders and he doesn't complain.
By Jessica from Richmond, KY
Read More

Comments

Onesummer
Bronze Post Medal for All Time! 219 Posts
When preparing a turkey sandwich for lunch what could I store the mayo and tomatoes in? If I put the mayo and tomatoes on the sandwich in the a.m. it is usually soggy and wet by lunch time. Any suggestions?
Onesummer
Answers

Louise B.
Silver Feedback Medal for All Time! 337 Feedbacks
August 18, 2008
0

found this helpful
I like to use the mayo to moisten the bread, and my kids don't find that it is soggy. Perhaps you use a lot, and if so perhaps you should package it separately.
The only way to prevent tomatoes from making things soggy is to put them separately in a tupperware container, and put them on the sandwich when you eat it.
By Carol (Guest Post)
August 18, 2008
0

found this helpful
When I pack sandwhiches for my grandsons lunch I put his catsup and or mustard in small squeeze bottles you buy for when you travel, for shampoo or body soap. You buy them empty and they are about 2 inches tall and usually found in the sample section at Walmart or Target. He Likes his small catsup and mustard containers.
By annie (Guest Post)
August 19, 2008
0

found this helpful
Scope out the inside seeds out of the tomato and chop up and use between the ham and cheese etc.
By Rasta (Guest Post)
August 21, 2008
0

found this helpful
I use a longer piece of plastic wrap and when the sandwich is completely wraped then I put the lettuce and tomato pickle etc and continue wrapping. No soggy

August 25, 2008
0

found this helpful
When I am at a fast food place, I take a few extra packs of ketchup or mustard or etc.
I send these with the lunches rather than putting the condiments on the sandwich the night before.
I bought one small, cheap plastic container to send pickles or tomatoes with the lunch, or a small zip top bag would work just as well.
By Judy Mimranek (Guest Post)
September 21, 2008
0

found this helpful
All these suggestions seem great and useful for many reasons but I simply butter both pieces of bread and then add my tuna or lunch meat and I'm done. For tomato and other veggies a separate container (like a zipper sandwich bag has always worked for me), however the plastic containers seem to me to be more economical in the long run as they can be reused. Good advise from all !

December 31, 2008
0

found this helpful
1. Separate containers for bread/meat/cheese and veggies/tuna. Use small re-usable containers rather than plastic wrap or baggies, since the wraps and baggies will almost certainly go directly into a landfill.
2. Pick up a big box of condiment packets at Sam's Club, Costco, Big Lots, or other bulk discount store. They come in ketchup, mustard, mayonnaise, and sometimes pickle relish. Each box will last several months.
3. Leave off the tomatoes because they do cause sogginess, but include lettuce, and also a little pickle, maybe.
4. Make a "dry" sandwich of bread, meat or cheese, lettuce, and side-packets of condiments (see #2). Then include a separate container with a bit of cucumber-tomato salad (no lettuce -- that adds bulk, but not a lot of nutrients) or fruit salad. Don't forget a fork! Sam's Club has a pack of 36 forks for something like $7 or $8, ditto with spoons, and about $13 for 36butter knives. If your child has her own utensils, she's less likely to forget and leave them somewhere, especially if there's a convenient place in her lunch box to put them.
5. If the kid just loves tomatoes and other soggy sandwich ingredients, make toast the night before (or make a whole loaf of toast on Sunday) by laying the bread in the oven on the lowest setting for an hour. It will dry out a LOT and become very crispy. That way, when you put the tomato slice on in the morning, the bread will be soft but not horribly soggy by lunch time.
March 7, 2017
0

found this helpful
Put the tomato in a separate baggy and use mayo packets. I just grab a couple from the gas station when I get my coffee in the morning.
Answer

this Question
I pack sandwiches in lunch bag (insulated) and include an ice pack. The bread gets soggy, how can this be prevented?
By Sabra

Answers

May 30, 2012
1

found this helpful
I had this same problem so I put the ice pack in a ziplock bag and put a folded paper towel between the ice pack and the sandwich. I haven't had a soggy sandwich since.

(Guest)
Gold Post Medal for All Time! 846 Posts
June 1, 2012
0

found this helpful
And if msconni1's idea doesn't work for you try adding your condiments just before eating. All you need is very small tupperware containers and a knife.
Even PB&J sammies get soggy if the peanut butter and jelly has been on the bread for a few hours (packed with or without an ice pack).

June 1, 2012
1

found this helpful
Leave off the condiments and tomatoes, lettuce, etc. if you use those. Put them in a separate sandwich bag. The bread is absorbing the moisture from the "wet" stuff.

Nightsong
Bronze Feedback Medal for All Time! 121 Feedbacks
June 2, 2012
0

found this helpful
It might not be the ice pack, but the sandwich ingredients. Try lightly toasting the breqad and spread with butter. Then add the meat, cheese, what ever. If you have tomato, don't put it in the sandwich but in a separate bag. Then bag the sandwich in plastic or waxed paper.

June 6, 2012
0

found this helpful
The only time I had a similar problem was when the ice pack itself was leaking. Ice packs are filled with chemicals that might not be good to have around food. I threw mine away and bought another for only $1. These smaller ice packs are available just about everywhere and are worth the money. I have two, one for in the insulated lunch bag and the other for in the freezer to use the next day. Recycling at its best!

December 1, 2017
0

found this helpful
That's didn't work for us. He is a truck driver and his bread is soggy he only eats bread cheese and .meat

December 1, 2017
0

found this helpful
He eats the sandwiches plain and the bread gets soggy I need to find a container which don't hold moisture. We bought a sandwich box and put the bread in that in the meat and in a baggie but the bread still got soggy. Anyone hi
has any suggestions on what can help I will take him
Answer

this Question