This is a very simple idea for anyone who might have little critters like lizards, frogs, tarantulas, and any other small animal that might need a place to hide.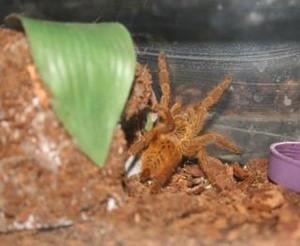 Approximate Time: 15 minutes
Supplies:
paper cup
hot glue
glue gun
substrate
fake plants (Optional)
Instructions:
This is a very simple, cheap, idea for anyone who might be a collector of reptiles, amphibians, or arachnids. My husband and I collect tarantulas and other various critters that can be kept in critter keepers or small tanks. Most of them need some sort of hiding place or hut with them so paying for a coconut home for each one from a pet shop can add up quickly. This idea probably wouldn't work for an animal that chews a lot like mice, rats, hamsters, or other rodents.
First all you need is to get a paper cup! The size of the paper cup depends on the size of your pet. Keep in mind that your pet will need to be able to hide inside of it comfortably and get in and out easily.
Once you have your cup you need to cut an opening into it. You cut the opening at the top of the cup because it'll be turned upside down to make sure your critter home will have a roof.
Once, you have an opening in your cup take a hot glue gun and cover the cup in hot glue. (Doesn't need to be perfect) Quickly, before the hot glue cools down, roll the cup in some substrate. You can use peat moss, bark, soil, or anything your pet uses for its substrate.
Once your little critter hut is completely covered, and cooled, you can either leave it the way it is or glue on some artificial flowers, plants, or leaves!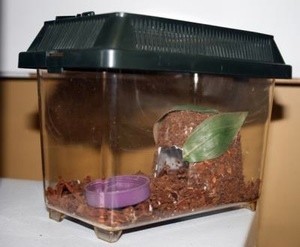 By Jennie from Las Vegas, NV