Last summer, I had black widows all over my yard. Most of them were female, and they built there little web underneath the ring all over my easy set up pool. Just a few days ago, my kids were playing in the sandbox and one was crawling beside my son. I thought they would be hiding since it's January and colder. I have a 2 year old and a 5 year old and will have a baby by next spring, so I am terrified of what they can do to my kids.
Does anybody know what to do to get rid of them? I was hoping to find a way without chemicals, since I'm afraid it wouldn't be good for my family. Thanks for anyone's suggestions! Candy
Answers:
Getting Rid of Black Widow Spiders
I would spray their webs, areas where you see them as well as the actual spider, with vinegar. I have four children and never use chemicals so I can understand your concerns. By the way, vinegar is great as a disinfecting cleaner and for killing weeds. (01/12/2005)

By Ann4
Getting Rid of Black Widow Spiders
I believe black widows are similar to the Redback spiders we have in Australia. They are everywhere and you just have to teach your kids to recognize and avoid them. Collect a good big adult in a clear jar and show it to your children, explaining the have a very sore bite, they mustn't touch them and to tell Mummy if they see one.
When you see the nests/egg sacs in the garden just spray them with insect surface spray - they nest in nooks and crannies, not somewhere your children are likely to be crawling so the spray would be healthier than a painful bite. There is an antidote so the bites are not fatal, just painful.
Most of the bites in Australia happen when people put on clothes with the spiders inside so it may be helpful to add turning clothes inside out and shaking them when you are teaching your children to dress and not to leave their clothes lying around outside the house.
(01/12/2005)

By Jo Bodey
Getting Rid of Black Widow Spiders
This is not an easy task. Spiders in general have to be killed/sprayed on contact. They won't die from residue spraying/bait like for other pests. The best way to avoid putting your children in harm's way in to inspect their play areas constantly. If you have them in your yard that bad, you should call pest control to at least get rid of the existing ones. Best to check for webs (usually thick). There is no dormant month for them that I know of, water heaters are their favorite spots. Dark areas like under/in boxes, cabinets. Be sure and never leave your windows open in your car. They love to drop down in a make camp! Good luck. (01/13/2005)

By Jennifer
Getting Rid of Black Widow Spiders
Definitely contact pest control. Whether eco-friendly or otherwise, this is a serious issue. You probably already know that black widows only bite when protecting themselves or webs/eggs, but you and your children will find it difficult to be on the lookout constantly. Spider bites are scary as, often, they don't hurt until hours later when the neurotoxin has started to break down the area where it has been injected. The sprawl of urbania grows ever onward into many animals' domains, and these types of situations are found often. Where I live, people find rattle snake nests alot. YIKES!
Anyway, pest control will, even if they can't guarantee direct control of the spiders, control the bugs in your yard which lure the spiders over. Closing the buffet will keep the customers to a minimum.
Scientifically, black widows make people (even the little ones) more sick than mortally wounded. Cats, however, apparently find it their duty to battle with these tiny creatures and lose 90% of the time. I wish you strength and health with your tiny adversary! (01/16/2005)

By Vyktorija
Getting Rid of Black Widow Spiders
Wrens eat spiders so place alot of small bird houses in your yard. (06/17/2005)

By mscynphey
Getting Rid of Black Widow Spiders
I also have problems with Black Widow spiders I live in Idaho and they are a constant problem here. Something I do that seems to keep them under control is bug bombing the house every 6 months or so. You can buy the bug bomb sprays at Wal-mart and some of them are enviromentally safe
After the spray I just wash down all surfaces that weren't covered and vacuum thoroughly. You can even place blankets or sheets on your couch and then just throw them in the wash, so no chemical residue is left on furniture. I also spray the outside of my house with a pressure washer to try and knock down any spiders there. (10/06/2005)

By Wendie
Getting Rid of Black Widow Spiders
Try placing Eucalyptus in corners and behind furniture that doesn't get moved often. My daughter has has a awful fear and I'm talking a screaming run as far as she can (usually out of the house) fear of spiders. Someone told me about this spider deterrent long ago. It works. (04/30/2006)

By Ariela
Getting Rid of Black Widow Spiders
I have black widows in my backyard right next to my pool and I have learned that if you knock down its web with along pole or stick then have on tennis shoes and long pants and stomp on the spiders. It was very effective and we haven't had spiders for months. (07/18/2006)

By Michelle
Getting Rid of Black Widow Spiders
Ortho home defense the perimeter of your entire house, outside and in, totally kid and pet safe once dried, and works wonderful, haven't seen a spider around my house in years.
(08/22/2006)

By Devon
Getting Rid of Black Widow Spiders
First of all, if you have them inside your house, you have a real problem - especially if you see an egg sac. First thing, go through your house and garage and look in every corner for any web. You can always identify the black widow's web if you look closely. It's a cobweb with no rhyme or reason, but the strands appear very sticky. Once you see one, you will be able to identify them. Anyway, if you see this web, the spider is nearby, carefully sift through it until you see the evil black SOB, then squash it. Wear gloves, wear socks, keep your distance, and make sure you take out the egg as well.

Everyone who asks about getting rid of them outside: just focus on the areas they live or areas you've seen them in (woodpiles, rock piles, water meters, etc). Smash (don't spray) the spider and be absolutely sure to destroy the egg as well. If you don't take out the egg, they will keep coming back. After one summer of carefully searching and killing them and their eggs, you will notice a drastic dropoff in the frequency of sightings. (08/21/2007)

By widow slayer
Getting Rid of Black Widow Spiders
I have found that using Home Defense Max works really good but you do have to keep up with it. I sprayed around my house and the next day found dead widows I didn't know we had.
(09/13/2007)

By Nicole
Getting Rid of Black Widow Spiders
Editor's Note: Here's something I found on University of Virginia's site:

Widow Spider Control Methods:
Non-chemical (Prevention)
Exclusion: The best way of dealing with widow spiders is to prevent their entry into the building in the first place. Use weather stripping around windows and doors and seal any openings around pipes entering from the exterior of the building. Use expandable foam for sealing around pipes but do not use foam around electrical conduit. Make sure that window screens are intact. Check firewood and other items stored outdoors for cobwebs and spiders before bringing them inside the home. Inspect and shake out shoes and clothing that have been stored in the garage or attic before bringing them inside or putting them on.
Eliminate harborages: Keep indoor closets, attics, and basements dry by either increasing ventilation or using a dehumidifier. Remove clutter and move boxes or other objects off the floor and away from the wall to eliminate possible spider nesting sites. Vacuum in corners and behind furniture frequently.
Prevent bites: Wear gloves when handling firewood or other items that have been stored outdoors or in tool sheds. Wear gloves when cleaning or vacuuming close spaces indoors.
Removal: If you discover a widow spider in or around your home the safest way to remove it is with a vacuum (hose attachment). With a vacuum you can remove the spider, the web, and egg sacs all in one safe step. Be sure to remove the bag from the vacuum immediately after use and throw it away outdoors.
Chemical
Widow spiders are typically not affected by general pesticide applications (baseboard sprays) because they avoid the treated areas. Individual widow spiders can be killed by direct application (to the spider itself) with a labeled pesticide but they may not die immediately and you risk an intoxicated spider running around loose in the house. By far, the non-chemical methods of prevention and removal are your best bet. If necessary, silica dusts or microencapsulated pesticide formulations may be used in attics and crawlspaces and on window frames to prevent spider re-infestation. In rare situations where widow spiders are numerous indoors, you should seek the services of a professional pest control company.
From: http://www.ext.vt.edu/pubs/entomology/444-422/444-422.html#L12 (11/02/2007)

By Donna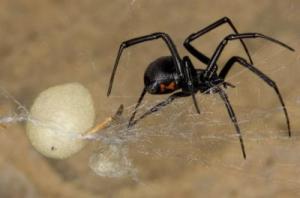 Getting Rid of Black Widow Spiders
I have found, living in the Semi-Arid Desert of Central BC, that the best and only thing that actually works to get rid of widows, wolf, and brown spiders are horse chestnuts fresh off the tree. Get them when they fall from the trees and then put them in ever nook and cranny of your home. Use approximately a 5 gallon pail full of them. Put 3-5 in every corner and little area a spider could be, under couches etc., not a quick solution but the best long term. (04/07/2008)

By Bryan
Getting Rid of Black Widow Spiders
Remove any and all spider webs from your yard etc. with a long stick while wearing boots, (smoosh). Spray any spiders with spider insecticide if you're too frightened to smoosh them.

Spray any areas where black widows have been known to be with Lemon Pledge. Spiders taste with their legs and hate the strong oily citrus residue. They should not return to those areas if you keep them sprayed with Lemon Pledge on a regular basis. (07/11/2008)

By Roxy
Getting Rid of Black Widow Spiders
I live in Kamloops, B.C. and we have black widow and brown recluse spiders. I have always used Raid Spider blaster. It works really well I have never seen a spider in my place, ( I live in a basement suite). All we do is spray closet corners, window and door panes once a week and then outside around the house every few weeks. Every once and awhile you'll find dead spiders, but never live ones! (07/21/2008)

By Kaylee
Getting Rid of Black Widow Spiders
I live in KY, and I have black widows all over the yard. The only solution that I have found to get rid of Widows is to get rid of my beautiful landscaping. Rocks, such as rock walls around ponds, landscaping rocks, and even sand in which the pool sets on, is the perfect haven for these little, but big scary creatures.
After losing my landscape, I hardly see Widows anymore. I have left a few rocks for some landscaping in which I still can pick up and find that glossy black red hour glass running for cover, and that's when the hillybilly dance begins. I have tried everything possible and unless I spray the suckers directly it doesn't seem like anything keeps them away for good. Hope this brings you some hope, although you may loose your beautiful landscape. (08/05/2008)

By E-roc
Getting Rid of Black Widow Spiders
Widows are primarily nocturnal, preferring the cool and darkness to daylight. That's probably why they like dark places like the corner of your garage or wood piles. In outdoors situations, they'll hide in cracks and holes during the day, coming out at night to hang in their webs and feed. My wife and I are typically indoors at night, but recently we returned home late one evening and found the place besieged by Widows. I killed two in the front of the house, and at least three (some of the smaller ones were hard to tell, though they were likely babies undergoing color change) in the backyard, mostly around our spa that we like to use most nights! I suffer from a peculiar form of arachnophobia: fuzzy spiders like the jumpers or even a tarantula seem kind of cute to me (not saying I'd adopt one as a pet), but the slick, shiny spiders with big abdomens and pointed legs absolutely freak me out! Needless to say I was pretty upset after this nighttime discovery.

The next day, I took a broom and cleared out as much cobweb and junk as I could all around the house, then soaked the perimeter with an indoor/outdoor pest control spray. I used the kind commonly available at hardware and home supply stores, comes in a big jug with a detachable sprayer. I paid particular attention to the cracks and crevices in brickwork and siding where I figure the little buggers hide. This morning I found a couple of dying Widows who apparently had emerged during the night and succumbed to the spray (which is designed to stick to surfaces and keep working after the carrier fluid has dried). I'd like to think that there are several more unseen ones that I killed as well. Looks like this will have to be a regular task around our place.
(08/18/2008)

By Ed L
Getting Rid of Black Widow Spiders (THIS WORKS)
I absolutely hate Black Widows, just hate them. I, like most of you, have a one year old daughter and worry to death about her getting bit. I have an abnormally large amount of these critters. I live in Northern California and seem to have found a solid solution to get rid of them. I usually just go out once a week at night with a flashlight and find them then kill them. I can count in a given night at least 10-20 Black Widows all over my yard, against my house, that is where I find most of them, they are just everywhere.
I have tried just finding them at night and spraying them with Raid Ant and Spider killer and it does kill them them, but very slowly. I recently, just today, bought a product (at Walmart) called Spectracide Triazicide in an attach to your hose model. This Triazicide is serious stuff. I sprayed my entire outside, yard, fence, house, all the perimeter of the house and where I know I always find them. As many of you know, insecticides just don't kill Black Widows, just kinda makes them slow. This stuff worked. As proof, I have attached pictures of the captured ones I found dead. I also attached a picture of the product I referred to earlier. I know I will have to repeat this process about 2-3 months, but it worked. It also killed all the other critters, like all the dang ants and other spiders. Give this a try, it worked for me. One thing to say, Black Widows do take a while to die (like an hour), but they stay in their webs so they are easy to spot. Hope this helps.
Oops, just found out I can only upload one photo, so I chose the buggers. Just look for the product mentioned above that attaches to your garden hose and just start spraying. (09/04/2008)

By Alan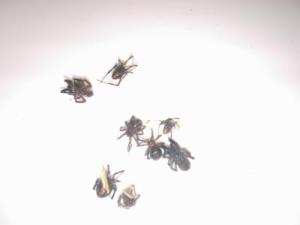 Getting Rid of Black Widow Spiders
I live in So. California. I've recently moved into a new house and discovered there is a Widow infestation. In the last 2 nights I've killed over 20, half of them huge fully grown females. Bleach sprayed directly onto the spider from a distance has had instant results. Death is in seconds. Hope that helped.
(09/13/2008)

By K
Getting Rid of Black Widow Spiders
I can help some people sleep a lot better at night. First, I have read all the posts and I hope someone finds their way down here to read this. There were 2,500 bites from black widows reports in 2006 (this is 2008 now when I'm writing this), but a lot go unreported to C.D.C because not everyone goes to the hospital (most do because of the pain).

Nobody died that year from black widow bites but four did die from other spider bites. Spraying your yard with bug killer by the hose works to keep down population because it kills what they eat but this job must be on going. Now for the best part; in every corner inside place a sticky fly paper trap (this will catch them 100%).

Also clean your house often and pick up trash, boxes and vacuum often. Now for the best part make sure your bed is not on the floor, around your bed post at the bottom place sticky fly paper traps (sticky side facing out and overlapping, and around the bed post, on the bed post) make sure blankets or anything on your bed is not touching the floor! Now you can sleep in Peace.
(09/30/2008)

By Capt Durham