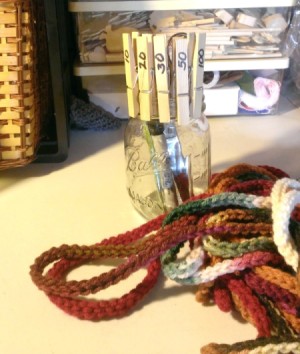 Recently, I did a project where I had to count stitches to make sure the chains were all the same length. Well, they sure weren't. I often have to compete with visiting kids and their video games, radios, videos, dogs...you name. It is hard to find quiet.
When I realized the project would literally have to be started over, I came up with a system that has really helped. I hope it helps you too.
With some dollar store clothes pins and an old jar (cup, soup can, etc.). I marked one side of the pins with 10, some with 20 and 25 on the backs, then 50 and 75 on each side of 1 then 100.
My chain was to be 200 long, so when I reached say 25, I put that pin on the jar. Then when I did that again, I would take off the 25 and put up 50. When I got to 100, I took the 50 down. When I got to 150, I put the 50 back up on the right side of the 100. When I got to 200, I took them all down.
I know you can purchase stitch markers but that requires you stop and put something, even a little length of yarn in a stitch. I find this distracts me less and I can keep my hand on my hook, and my mind on the task at hand.
Hope this helps you as much as it does me.
PBP