gem
Bronze Post Medal for All Time! 163 Posts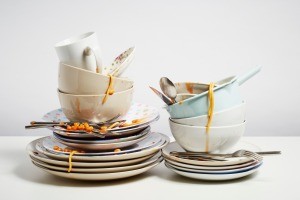 How would you like visitors to drop by and you have a whole sink load of dirty dishes? This would embarrass me, and it also makes me think people are not very clean. Dirty dishes are a magnet for bugs and I hate bugs.
At a very early age, we were taught to wash the dishes as we went, so when it came down to the time to wash up the dishes we only had the plates, cups, and silverware to wash. This saves you money and time. Often I will have all the dishes washed up and the stove cleaned, before I sit down so all that is left is what we are using. Then after supper it only takes a few minutes to finish the dishes, then you have time to relax.
So you may want to try this and see how you feel after you finish that huge plate of food that has made you tired and ready for some relaxation. It sure feels good to me when I only have a few things to wash up after a hearty meal. It also makes me feel good that I am avoiding a bug problem.
By gem from VA
Comments

(Guest)
Gold Post Medal for All Time! 846 Posts
May 23, 2011
0

found this helpful
Top Comment
I do the same oh so easy thing to do and after the meal, if really tired or have company, will simply rinse the meal plates and stack them nicely in the sink to do in the morning.
Read More

Comments

Anyone have realistic advice on getting others to help me with the dishes? We do not have a dishwasher. It's 99 percent of the time me doing all the dishes. Yuck! I've hated dishes since high school and actually rebelled against it.
Now, with a husband, son, and a stepson no one ever helps out. They did dishes all the time before I came along. Now they are spoiled. I cook almost daily and love it. But, many nights the dishes sit there until the next day, and then again until almost a week's pileup is there just waiting for me.
By darlene from St. Louis, MO
Answers

Keeper
Gold Feedback Medal for All Time! 690 Feedbacks
August 1, 2010
0

found this helpful
Best Answer
Humor works for me. While your all eating the wonderful meal you made you could mention the "Good Old Days" when they did dishes. Then tell them you cooked and after dinner your going to enjoy some "Me Time" and how wonderful that they will be doing the dishes. What's the worst that could happen? :)

OliveOyl
Bronze Feedback Medal for All Time! 138 Feedbacks
August 1, 2010
0

found this helpful
Best Answer
If they will not help you then reduce the amount of dishes you have to wash. Buy disposable cups and plates. I know this is not frugal but it might be worth it to make your life easier.
I used to do this with teenage son bringing in friends all the time. The friends were welcome, but not all the dirty glasses.

August 1, 2010
0

found this helpful
Best Answer
Have you tried doing it together? You wash and hubby dry. Don't let him know what a chore it is. Make it look like spending some time together. Ask him sweetly, if he would like to dry the dishes.
Works for me!

August 4, 2010
0

found this helpful
Best Answer
Make the rule that the cooking for the next meal is not started until all the dishes are done from the previous meal. If you have to have a few meals out on your own without them because the dishes weren't done, well, so be it.

lavonneann
Bronze Feedback Medal for All Time! 112 Feedbacks
August 4, 2010
1

found this helpful
Best Answer
At my house the cook doesn't do dishes.

Lilac
Silver Feedback Medal for All Time! 450 Feedbacks
August 4, 2010
1

found this helpful
Best Answer
Get tough and make them understand you will not be the only one who washes dishes. Either go buy a dishwasher and charge it to your husband or tell them each has to wash their own plate and glass plus one pot.
It wouldn't hurt them to do a load of laundry a few times a week either. You are not the maid. You are not their menial. The nerve! I'm serious. Don't put up with this.

August 4, 2010
0

found this helpful
Best Answer
Try cheerfully saying, "Boy, I'd love to cook _ _ _ _ _ for everyone tonight, but there aren't any clean dishes or pans for the job! Guess we'll just go without a nice meal!" See how fast the others get the dishes done.
I like to see the dishes done after every meal, but I've had to let that idea go to get help with dishes in my house.

August 4, 2010
1

found this helpful
Best Answer
I agree with Ann. You have got to get tough. Tell them what you expect and if that doesn't work, have them eat sandwiches off napkins. Better yet, don't fix them anything until they agree and help out.
It takes all the family to keep a household running. You aren't a servant! Everyone should do a little everyday then one person doesn't have to do it all.

(Guest)
Gold Post Medal for All Time! 846 Posts
August 4, 2010
0

found this helpful
Best Answer
As much as you like to cook don't do it until they do the dishes! And don't do whatever dishes they might pile up either! And make it clear that you are not going to be doing the dishes but 'them' always when you do finally start cooking again! Hey, don't even do any marketing for that matter and use that money to take yourself, by yourself, for meals until they get the picture!
How selfish of them and especially your husband who is a grown man! On the other hand, I do like the idea of cajoling your hubby in to 'we' sharing the chores time. And yet the boys need to also learn. :-(

August 4, 2010
0

found this helpful
Best Answer
Same rule in my house-whoever cooks doesn't do dishes. My husband usually does them because he won't cook. Or, my kids have rotating chores which sometimes land them in the kitchen & then it's their job to keep it clean.
Call a family meeting & explain that you don't think it's fair for you to do all the work.Ask for ideas to solve the problem,let them have some input on what they are willing to do. If they won't help out, set a new rule for yourself- whoever doesn't help is responsible for fixing their own meals & cleaning up after themselves. I can tell you from experience that a couple of times fixing a meal for just yourself & leaving them on their own will do wonders to get them to see things your way,LOL!
Just remember-they are going to treat yo the way you allow them to & then the boys will try to treat their future spouses the same way.

August 5, 2010
0

found this helpful
Best Answer
Before each meal fill the dishpan with hot soapy water. Ask each person to wash the dishes they used for the meal. It takes each person 2 minutes at most. Have a drying rack to air dry the dishes. In addition assign one person a week to do the pots and pans and one person to take out the trash after dinner.

August 5, 2010
0

found this helpful
Best Answer
My mother forced her lazy children to do the dishes by developing an "allergy" to all dish soap. She showed us the blisters, so we couldn't argue.
Failing that particular psyche job, the old children's story of Henny-Penny springs to mind. Whoever won't work, shouldn't be permitted to eat. Harsh, but hey. Lincoln freed the slaves!

August 6, 2010
1

found this helpful
Best Answer
Remember if you act like a door mat. People will wipe their feet on you! I refuse to cook if my husband does not put the dishes away after they are clean in the dish washer. Did you know a dish washer uses less water and is more sanitary than doing them by hand and wiping them dry! I think limiting the dishes, and silverware available could be the answer, as requiring each person be responsible for cleaning their plates etc. Also your sons, if they get married one day will be ready to help with kitchen chores, which is only right! I have often said the "next" house won't have a kitchen! Really women spend more time in that room than any other! If you also work outside the home it is even more important that you have help. Good luck to you!

cettina
Bronze Request Medal for All Time! 64 Requests
August 6, 2010
0

found this helpful
Best Answer
Don't know if this will work, but you could try giving them really cheapo basic meals for dinner (like toasted cheese sandwiches) and tell them thats all they will have for meals since you are saving for a dishwasher and the money to pay for it has to come out of the food bill. Unless they all contribute towards paying for a dishwasher or they start doing the dishes themselves and there will be no need to purchase one!
Answer

this Question