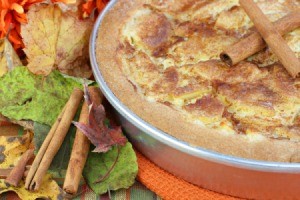 It's easy and I always have the ingredients on hand. Inexpensive and tastes like a lot of effort went into it.
Ingredients:
Crust:
1 cup flour (may use half whole wheat flour)
1/4 cup powdered sugar
1/4 tsp. salt
1/2 cup butter
Filling:
29oz. can sliced peaches
2 eggs, beaten
1 cup sugar
1/4 tsp. salt
3 Tbsp. flour
1 cup sour cream
Directions:
Cut butter into dry ingredients. Pat lightly into ungreased 11x7 inch pan.
Arrange drained peaches over crust. Mix rest of ingredients and pour over peaches. Bake 425 degrees F for 10 minutes, then 325 degrees F for about 35 minutes or until set.
Servings:
8
Time:
15 Minutes Preparation Time
45 Minutes Cooking Time
Source: a friend
By anne from Green Bay, WI
Does anyone have a recipe for a kuchen made with concord grapes with their seeds? My German grandmother used to make one and she did not seed them. I also think she left their skins on. Thanks.
Maryeileen from Brooklyn, OH
Answers
By Bonnie (Guest Post)
October 30, 2007
0

found this helpful
Dear Maryeileen,
I wish I had this receipe for you. I too remember my German grandmother making these cakes with grapes. Also with peaches or cottage cheese. You really brought back memories for me.
Bonnie
By Susanna (Guest Post)
October 31, 2007
0

found this helpful
There was a concord grape kuchen recipe in the Plain Dealer the other week- maybe last Wednesday or the Wednesday before. Go on their website and see if you can retrieve it. My Grandma in Maple Heights also made this kuchen- she made it look so easy!
November 1, 2007
0

found this helpful
Susanna, The reader who submitted the question to The Plain Dealer is my Dad! (The recipe that Bev printed in her column is not the one we're looking for.)
By Jim (Guest Post)
December 22, 2008
0

found this helpful
My Dutch grandmother made grape Kuchen (skins and seeds) and I am looking for recipe also. I remember whole grapes in the kuchen and also on top with lots of sugar?
March 13, 2011
0

found this helpful
Did you ever get the recipe? I would love to have it. My mother made this every fall (along with peach, apple and cheese kuchens) The aroma was intoxicating. Skins and seeds never bothered us!
September 10, 2011
4

found this helpful
Grape Kuchen
2 cups sifted flour
3 teas. baking powder
1/2 teas. salt
1/2 cup sugar
1/3 cup shortening ( I use unsalted butter)
1 beaten egg
1 cup milk
4 cups of Concord grapes (approx.)
Leave the grapes on the stems, and rinse in a colander, and let sit and drain while you mix the dough. Don't take them off the stems to rinse, because they absorb too much water.
Sift the dry ingredients together. Cut the shortening into the dry ingredients until dry and crumbly. Beat the egg with the milk, and add to the dry ingredients. Mix until just blended.
Spread batter into a 9 x 13" pan, that has been greased and floured.
Starting at one corner of your pan, remove the grapes from the stems, and place them side by side, as close together as you can, making rows across the pan. Push them slightly into the dough, just a little. Cover the entire top of the dough with grapes.
Topping
Mix together to make a crumb topping:
1/2 cup sifted flour
1/3 cup brown sugar
1/4 teas. cinnamon
1/4 cup melted butter
Crumble this mixture over the top of your grapes in the pan, and bake at 375 degrees for 45 minutes.
September 23, 2012
0

found this helpful
mjk4: I used your recipe and everyone in my family says it's the closest to Grandma's that they've had. Thanks!
October 21, 2019
0

found this helpful
My mother used pillsbury hot roll mix (1box) following package directions ( it contains yeast and add 1 tbsp sugar and 2 eggs instead of the one called for by the package directions. This made 2 9 inch kuchens. Added grapes and pushed down into dough a bit. Topped with: 1 and 1/2 cup flour, 3/4 cup brown sugar, 1and 1/2 cups of hard cold margarine ( this was back in the 50s) mix with fork or hands till crumbly. Top and bake kuchens per package directions. This may have come from the Cleveland Plain Dealer because I have several other recipes she saved from that newspaper and the Cleveland Press. Hope this helps.
Answer

this Question
I am looking for a recipe for Blackberry or Blueberry Kuchen. Its a German pastry my grandma always made and haven't been able to find one that is just like hers.
Thanks,
Vicki from Marshall Minnesota
Answers
By misti breuer (Guest Post)
September 25, 2006
0

found this helpful
Hello my husband is from Germany if u cant find it. Just email me and i can get him to get the reciepe for u !!
Just let me know
mistibreuer AT solidrockfaith.com
thanks
Misti Breuer
September 25, 2006
0

found this helpful
just go to allrecipes. com. i have never made a kuchen always wanted to but never have.
Answer

this Question