I am wondering if anyone knows how to get rid of ladybugs within the house? Any good home remedies out there?
Mandi from Erie
Answers:
Ladybugs in the House
I have the same problem, sometimes hundreds of them! Mine aren't lady bugs but something like them; little beetles that look like lady bugs, but mine bite!
I don't know what to use to kill them off, but as soon as I see them I pull out the vaccuum and suck 'em up! That is the best advise I have...LOL. It seems like when I do this, the problem starts to get better, but once they hibernate for the winter, but they come right back...just as many!
(03/13/2006)

Ladybugs in the House
I did a little reseach online on these pests a few months ago. We have them very badly here in southern Ohio. They are beetles that eat the aphids on soybean plants. That is why they seem to disappear part of the year. If you watch, as soon as the soybean fields are harvested they start coming back to visit you :) . They search for cover for the winter. They don't reproduce in your home. They only reproduce in the soybean fields. They have no natural enemy .. what would eat them? They stink very badly when squished! I have tried almost everything imaginable, Amish recommended to sit out bay leaves ... doesn't work....I heard vanilla candles ..yeah right!! I did find that they are sensitive to one insecticide. It is permethrin. I found it in Grant's Ant and Spider killer granules and Ant and Roach spray. I planning on sprinkling the granules around the perimeter of the house after they leave for the soybean fields and see what happens. Other then that, the only remedy is a vacuum and seal up areas where they can come into the house. Their bites aren't poisonous, just ouch. I believe they were brought here to help the soybean crops, but got out of hand. Also, wild turkeys were supposed to be their natural predator, but I guess our turkeys have a selective palate ! Good luck !! (03/14/2006)
By hvnlyhlls
Ladybugs in the House
Ok I just did a search and this is what I came up with...
They are called Asian Lady Beetles. Yes, they were brought here to eat aphids and other things. They can lay up to 50 eggs per day...that is just crazy...lol.
***This is a copied article***
Both in the Spring and the Fall many experience what may be considered a Ladybug Invasion of thier home. This seems to be a very common problem from fall to spring in some parts of the country. The Ladybugs (or Asian Lady Beetle) have found winter shelter inside your home. Your best defense for next year it to try to seal up every little crack where they might make their way into your house. There is an interesting article about removing ladybugs from inside the house on The Beneficial Insect Co. Website. They suggest using slices of fresh apples to attract them to one area and then sweep/vacuum them up, then relocate them outside away from the house some place where there is shelter. The Ladybugs are just looking for a warm place to winter, and in the spring they may be trying to get out of your house."
***This is also copied from the web***
This October Wisconsin has been invaded by swarms of "ladybugs" like the ones shown in this photograph. Lady beetles are predatory beetles that feed on aphids and other soft-bodied plant eating insects. Although we have several species of ladybugs in Wisconsin, the species most abundant now is the Multicolored Asian Lady Beetle, a native of China, Japan, and other parts of Asia. As the inset in the enlarged photo shows, individuals vary considerably in color from yellow orange to dark red, and can have 0 to 10 dark colored spots on each of the 2 wing covers. It is sometimes called the "Halloween" lady beetle because individuals are often pumpkin colored and are most commonly encountered during October. The species was introduced into California in 1916 and reintroduced in the eastern US and Canada several times between 1977 and 1980 to control aphids. The first reports from Wisconsin were in 1992. Asian Multicolored Lady Beetles are particularly abundant here this year because of an outbreak of another Asian native, a soybean aphid. In their native habitat the beetles often gather together in the fall and hibernate in cracks on sunny cliffs, which may be why they are attracted to light colored walls and siding. Although they release an orange smelly defense chemical and might give a pinch-like bite if trapped, they are not poisonous and do not transmit diseases. Most entomologists agree that pesticides are NOT very effective in controlling aggregating ladybugs. The best advice for coping with swarms of these insects is to be patient, they will be gone in a couple of weeks. Commercially bought or home made light traps and vacuuming are the reccommended methods for removing ladybugs that get inside the house. Ladybugs that get into your house will eventually die because the humidity is too low. Applying pesticides now will only be expensive for you and add poisons to your yard and house. Indoor pesticides are ineffective because the beetles are hiding in inaccessible areas in the walls,. Outdoor preventative chemicals only work if applied before the beetles begin to congregate so application now is also ineffective. Stop up cracks in screens and vacuum or sweep the ladybugs under bushes or against walls, especially near gardens, where they can overwinter and help control insect pests in the spring. Because they eat the same food as other lady beetles, the most serious concern about the Asian Multicolored Lady Beetles is that they may outcompete and cause a decrease in the biodiversity of our 350+ native species (03/14/2006)
Ladybugs in the House
I put up the plastic over my windows for the winter. i have lady bug skeltons in between the plastic and the wiindow. some have gotten out and they fly around the house. i have decided i am going to vacuum all the windows then take out the blinds with someone helping me and wash them then wash windows and plug up all the holes betweeen screen and window frame. I will hope for the best. (03/15/2006)

By sandy
Ladybugs in the House
Ladybugs ladybugs I live in Wisconsin and we have a lot. We live in a Mobile home and I put Bay Leaves in the tracks and it worked pretty good. I also found out that the fly strips that you hang up catches them. I cut the strip in half and lay in track of window. I also found that the Bathroom cleaner from the dollar store works great for spraying on you screens. Angie (03/17/2006)
By pauley
Ladybugs in the House
I read on another site, try shallow tubs with water in the bottom, add a bit of sugar and a few drops of soap. Safe in the house, non toxic. Bugs land and drown. They were attacking my building, I sprinkled raid flea powder all around the edges of the walls, kills ants ladybugs whatever crawls through it. Good luck (03/26/2006)

By bud
Ladybugs in the House
Palmolive dishsoap works great...just water it down, put in a spray bottle and soak them! It's a little messy on your windows, but at least it's not toxic. (03/30/2006)

By gsdgirl
Ladybugs in the House
I am so sick of these bugs. As soon as the sun shines through the windows, I get these lady bugs coming out of the wood work. One day I was minding my own business, cleaning my kitchen, when I feel a sting on my neck. It was one of those stinky *&% bugs. I have pups so I don't want to spray. My husband bought me a bug zapper for Christmas but they are too heavy to suck up. I just want them to go away.
(04/06/2006)
By Tammy
Ladybugs in the House
We live in Tennessee and have a ladybug problem as well. It's disgusting! We have an older home, built in the 1920s...so our windows are definitley in need of re-sealing. What a project that would be! In the meantime, I just grab the mini vacume (dirt devil) and suck them up. I think the fly strips are a great idea...we'll try that next. Good luck! (10/29/2006)

By A-Led
Ladybugs in the House
Here's a pic of one...They come in the house when soybeans start getting harvested it's around late Sept and Oct here in SD. I've read online that an insecticide called Tempo WP works. It's about 65 dollars for the season I guess. I'm not looking forward to the asian beetle season at all! I think I'd rather invest in insecticide instead of buying vacuum bags. (09/10/2007)

By SDFarmwife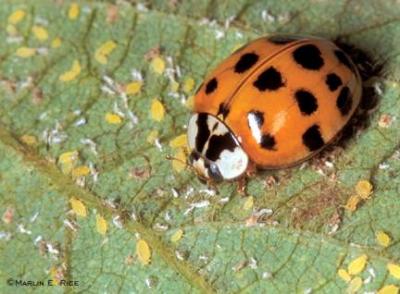 Ladybugs in the House
We're doing construction on our house and this year the beetles are the worst. Usually we dont spray, but we have a few hundred in our porch. Im gonna try the dish soap method. Hope it works, seems like it stunned some of them so far. (10/18/2007)

By JessandDan
Ladybugs in the House
I mixed dish-soap (generic) and cool water a few hours ago and sprayed the house, it worked very well. Hopefully it lasts but I'm prepared to keep spraying now. Smells fresh at least. (10/18/2007)

By Soapandwater