Does anyone know how to get rid of ladybugs? We have lots of them in our house! Thanks!
Tricia A. Farnham, VA
Answers:
Ladybugs in the House
These beetles can be controlled using an insect bomb I've found at dollar stores, about 3 or 4 cans approx. $5.00 and put in the crawl space of your house several feet away from each other. This also kills the spiders. What few beetles that do get indoors, I put in a glass jar with lid half filled with PineSol and water.
It kills them instantly and if you use a vacuum, their odor lingers and is unhealthy and you can smell it when you use your vacuum again. The beetles linger on the sunny side of our home and come in that way and are attracted by lamp light.
(01/11/2008)
By Myrna
Ladybugs in the House
I got some spray from Wal-Mart called Bug Stop. I think that they have it at Lowe's too. I sprayed it on the outside screens where they were coming in, and on doors. It has kept them away for 2 years. It's the only thing that I've found that works. (01/11/2008)

By Elizabeth
Ladybugs in the House
I used a circle of duct tape with the sticky side out on a long stick, pole or mop handle. This will reach many places. Touch it to lady beetles. Don't push real hard or tape will stick in tough places to get off.
When done or to reload, fold tape with bug inside. Don't squash-they stink.
Good luck (01/11/2008)
Ladybugs in the House
Everyone really has a real problem with these. I get maybe 20 ladybugs during the winter. You guys are going to hate me, but I just leave them alone, poor things will die on their own. Now, none of mine have ever bitten. That is something new to me! Maybe I just have plain old ladybugs. (01/12/2008)

Ladybugs in the House
I had the same problem while living in an apartment in Riverdale in The Bronx (believe it or not) some years ago. I found my windows covered with them. I contacted the Bronx Botanical Gardens and they suggested that I collect the bugs, put them in a safe container and place them in the refrigerator (not the freezer) for the winter. I did and one morning late in the following spring, I released them onto the window sill (outside) and, lo and behold, if they didn't revive and fly away! (01/12/2008)
Ladybugs in the House
You could make money and sell these ladybugs to greenhouses.The ladybugs work great for aphids on plants.
I wish I had lots of ladybugs for my greenhouse.:) (01/30/2008)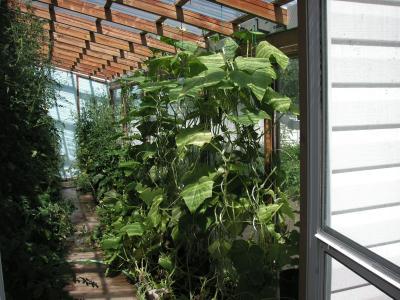 Ladybugs in the House
I contacted a bug expert about these pests and I was told that they are not ladybugs. They are Japanese beetles that were introduced in our area to control a type of larvae. Since then, they have bred with our common ladybug and YES THEY DO BITE! They are an orange color rather than red like our ladybug. Anyway, the expert said to use bug bombs in the attic where they nest. So I did and it worked! (02/11/2008)
By Gramma Jan
Ladybugs in the House
We have a big infestation. We don't know what to do, we have caught over 200 ladybugs and put them in a bug box. We are going to the forest and letting them go. Is there an easier way than all this catching about 200 a day and then letting them go? I've read that they lay over 1000 eggs in their lives. (10/11/2008)

By city girl in country