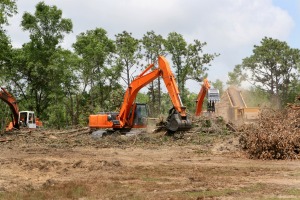 I took over my sister's house and I don't know where to start or how to do it. The backyard is privately fenced in and has not been touched in about 3yrs. It has grown up with weeds and grass twice as high as the fence. I'm a little scared of what is living in it.
I have 3 children that would love to have a backyard to play in at some point. What would be the best way to take this jungle on? I can't even open the fence gate to take 1 step into it. She also left 3 big garbage cans full of trash, not with bags, just trash and food. By the looks of it they may have been here full for a long long time. There are bugs of all kinds crawling out of them. What should I do to get them out of here? I'm in such a mess, literally. Can someone help me?
Addendum: I should probably let it be known that the garbage man is a private company and will not take anything, but bags. I do not have a truck so I'm not sure how to get them out of here? I don't want to keep them by any means.
By sumdawn
Answers
June 23, 2011
0

found this helpful
The best thing to do is just dig in and get started. What works for one person, might not work for another. If you have a pick up just load the garbage cans up and take them to the dump or else put them out where the garbage gets picked up. Maybe put large garbage bags over the cans to keep the bugs from getting on you. As for the overgrown yard, before you can actually cut it with a lawn mower, you might have to find a scythe to cut the tall stuff down and then after that keep it trimmed with a lawn mower. I would think if there was snakes and critters in there you would have seen some of that stuff up by the house occasionally. Where I live if the yards get too long you get a notice from the city to get it taken care of or they hire somebody to do it for you, and bill you big time. You could also call different lawn services and have them come and give you an estimate on how much it would cost to have them do the yard the first time, providing you could afford to hire it done. Also maybe your church youth group would be willing to do something like that for a little pay to put in their treasury.
June 23, 2011
0

found this helpful
You say you cannot open the gate. Can you get into the back yard through the house? Ideally a door, but even a window if you have to? Will you be doing this by yourself, or will you have another grown up to help you?
I'm surprised you (or your sister) haven't been fined. If you have the money, I agree that you might want to see about paying someone to cut everything down. After that you can continue to clean and maintain it. If you cannot afford it, a weed eater will help cut some of it down. But if it has been three years, I bet there are some young trees/saplings in the yard. A set of loppers will cut those down, and you can dig them up later. Even though we're in the heat of summer, you should probably wear jeans and long sleeves while cutting it all down. And wear some good shoes, too (no sandals!). This will help protect you from bugs, and anything like poison ivy. If you find poison ivy, you'll want to treat your clothing carefully. I know you have to wash them in hot water to help remove the oil. Do a little reading up on the internet for more information.
If you don't want to keep those nasty trash cans, I wonder if your city/town will haul them away for you. For a fee, we can schedule special trash pick up with our sanitation department. Normally this would be if you have something like mattresses, fencing material, and maybe appliances (although I'm not sure about that part). If it is as disgusting as you say, you might want to just slap on some gloves and drag them to the curb. You can buy another trash can.
Good luck to you. This sounds like a really big job. My parents are selling the house I grew up in (they close in a few days). They tell me it was a mess when they moved in, and I've seen pictures of the yard. But now it is gorgeous. It can be done, but it'll take time and hard work. I hope you and your kids enjoy it once it is cleaned up!
June 23, 2011
0

found this helpful
I agree with Mrs. Story, I would start with a weed whacker. If you use one with a gas motor, it should create enough of a noise and a disturbance, to shoo away any critters as you advance. If something is growing that is too big to get cut off by the string, just keep going and come back later with the lopping shears. In addition to wearing jeans and long sleeves, don't forget ear protection and protective eye gear! If you can, get some poison ivy blocking lotion to apply to any exposed skin before you start, because you will end up "wearing" some of the juicier plants as you use the weed whacker. To begin with, just cut everything down, unless it is very obvious that it is something you may want to keep, like a rose bush. Find out what your municipality's policy is on "yard waste", you might do well to ask someone with a pick up truck to help you haul the yard waste to the recycling center. If that is not possible right now, pile the clippings and such in the farthest corner of the yard. They will lose volume, and you can get rid of them little by little.
You're probably just going to have to bite the bullet and drag the trash cans to the curb. If you can afford new cans, you can just try to get the hauler to take the cans, too. If, however the cans are in good shape, let them empty them, then hose them out. You can scrub them with soapy, bleach water, then leave them in the sun to dry.
It sounds like a bear of a job; but one you can do. And you will be teaching your children some valuable lessons as you do! Best of luck!
June 24, 2011
0

found this helpful
1. Wear long sleeve shirt, long jeans, and a hat to protect your hair.
2. Buy yourself a really sturdy pair of leather work gloves.
3. Purchase a pair of lopers/pruners that can handle up to 2 inch branches
4. Purchase a garden fork, one you can get some leverage on, to lift out roots.
5. Rent or buy a weedwhacker
Begin at the gate. Start early in the mornings when it is still cool, work 2 hours, then clean up and rest. Don't try to do work like this in the heat of the day - restart in the evenings if you feel up to it. Do a patch everyday, I have cleaned out some nasty areas this way and I'm a petite girl. Trust me, creatures will run away from you as you work, especially if you take your time.
Good Luck!
June 28, 2011
0

found this helpful
I feel your pain. I have been overwhelmed for years. I took charge 3 years ago of small sections and the satisfaction of success is contagious and encouraging. Here are my suggestions based on my life.
1. Start simple. I would start at your yard with the advice above to just plan to gain clean up and control. Maybe one small "beauty project" that is easy and cheap. Start simple and with high success i.e. sandbox for kids(pallets) or pea gravel around hose faucet with a couple of stepping stones-put down newspaper or plastic bags then the box or sand. Kills weeds and prevents mud. I have 3 raised veg beds from old lumber (Square Foot Gardening book). Look around for what can be reused. Wood Pallets are great for projects and many times free. Check out Recycle building supply places in your area (Habitat for Humanity has one here).
2. Weed Whacker is a must! (High School or College kid with Whacker is even better). I pay $8 and hour and put them in the area with very clear directions as to what to cut and where to pile the cuttings. Put 4 pallets together with wire in a "box" in the corner for a compost collector. Have the teen throw the clipping in there. You can add your food scraps. If you have critters or are in the city you may want a closed system. I got mine at the Metro recycle center here in Portland. (A little research and planning can save you big $$ in disposal and waste cost. ) I would expect to have the teen able to clear in one day of whacking, raking and piling.
3. Trash cans full of stuff: Cheap solution=you or hired help separate and compost, Recycle all you can. Some recycle places will take all plastics(including the cans, old toys, chairs etc) most will take the regular stuff of glass, metal etc. My garbage hauler has a drop off spot for everything if you will bring it in for free. ( aluminum, plastics, cardboard). They are a private hauler and only do curb recycle once a month) I got rid of everything from our yard and garage by the recycle and building reuse places without any fees. 15 years worth! If this is all too gross, have the kid bag it all and pay to dispose of by hauler, at least it is gone and you can move on. : )
3. Bark Dust, pea gravel and sand are your friends. Cheap and look good. Use as accents around garden, a special bed you are working on, water sources, paths.
4. Collect plants from friends and be creative. That bush they want gone can be trimmed down put in a corner. Some of my best landscape has come from people separating the day lilies or even mystery plants. I try and stay simple, native plants and perennials if possible-easy and successful. Fill in color with annuals. I did two beds last year that are slim (2-3 feet wide and 10 feet long) with all natives, perennials and gifted plants that were very cheap or free. This year they all came back beautifully! A little bark dust and it is very pretty. This year I am adding a few evergreens for something in the winter.
5. My kids played on cut weeds for their whole lives. I never worried about the dead grass from the plastic pools and slip and slides, sand out of the box or a little misplaced pea gravel. I threw out a few grass seeds once in awhile to add to the fill in factor. They are all grown now and remember fun, not fussy. We were the house of choice to play when they were younger as we had 7 and "kid" friendly environment. After 15 years, of living here, my husband dug up the backyard and put patio with pavers, flower beds and we even have sprinklers for the real grass! We sit on patio now and have quick mowing, but I still miss the slip and slide. I guess I will have to wait for grandkids.
Chop up the process. Enjoy the journey and memories with your kids helping you. Take pictures as you go. Have fun!
June 28, 2011
0

found this helpful
If you're in the USA, check out this website www.hirepatriots.com It's lets you get in touch with a local military base in your area and look for someone who needs a little extra money for doing all types of things from yard work to painting and handyman, along with household help. Both the military and their spouses use this posting site to do/get work. Hope it helps ! Makes for a win/win situation.
Read More

Answers
Tip for clearing land of scrubs, trees and brush to allow for gardening or building. Post your ideas.

Answers
May 5, 2005
0

found this helpful
When new to the area and cleaning off your property. Before cutting down and clearing some of the trees/shrubs, flowers, ask someone in the neighborhood if they'd like to have any of them for their property. If not, then dispose of them how you see fit. Remember, someone somewhere might want the trees for BBQing.
By Terri
May 6, 2005
0

found this helpful
For large areas pigs are good - fence them over the area you want to clear and they will turn over the soil and root out all the shrubs, bushes and their roots, even for persistent weeds. This may take some time but in the end you will have cleared land and pork in the freezer! For small areas chickens are good, in a moveable pen, (a chicken tractor). They will eat/scratch up all the vegetation, pick the ground over for seeds and insect pests, fertilise it with their droppings and your waste plants are turned into eggs. And no harmful chemicals!
Regards
Jo
May 6, 2005
0

found this helpful
Of course, don't forget good old fashion goats!
They like to eat higher than their knees & shoulders, eating vines, lower tree limbs as far as they can reach.
Pine trees are great dewormers for them. We like to pull over a sapling for them to reach the tree leaves or needles. They love that. And the 'sticker-vines' that crawl up the trees and flourish, are their favorite.
But there are some things they can't have because it is poison for them, such as wild cherry trees, azaleas, oleander, etc...
Cows will eat short grasses, while goats like the higher weeds, trees, vines & such, and as was mentioned by Jo, pigs are wonderful for rooting out roots!
Of course, you could always rent a backhoe for $1000 a week and find a retired farmer to run it for you, if you are in a hurry, but that doesn't seem as frugal as the pigs & goats (or as much fun).... :)
We also got a LOT of trees cleared out in a couple of days by a tree trimming crew working in our area by giving them the trees in exchange for taking them down for us. They accomplished more in 2 days at no cost to us than we had accomplished in 4 years with our old backhoe & animals.
By kevin (Guest Post)
January 7, 2006
0

found this helpful
I just had 6ac clear cut and was paid several thousand for the timber. I plan on using some of that to cover the expense of cleaning up the brush. I plan to make this a field.Here's the problem. Do I leave the stumps to rot or do I pay quite a bit more to have them dug up? Rent a stump grinder? What next?
Editor's Note: Kevin, we posted this as a new request:
www.thriftyfun.com/tf47891672.tip.html
Answer

this Question
I have about 14 acres of property. The timber was removed from it about 10 years ago, so now I have about 10 years of growth to deal with. My wife and I are planning on building a house on the property, and will be clearing a couple of acres of land to do it. It's really thick, but the largest trees I'll be dealing with are little pines that are about 2 in. in diameter.
I've run heavy equipment most of my life, and I'm thinking that a "bush hog" might do the job. I've watched a couple of videos of guys getting off into some pretty serious vegetation with a hog, and it seems to be the way to go. I don't want to go in with a dozer because I don't want to disturb the ground that much right now. Not to mention the fact that I don't want mud all over the place. What are your thoughts on this?
By Bobby King from Ore City, TX
Answers
May 9, 2009
0

found this helpful
I've seen some pretty big stuff cut with a Bush Hog (did you know that's a brand name?) but I would go in with a chain saw and cut the biggest stuff first. Just to save fixing that gear box.
May 9, 2009
0

found this helpful
Yes sir, I do know that 'Bush Hog' is a brand name, but it is also a common term describing a 'pull behind' that cuts grass, clears brush, and otherwise tears down some pretty serious vegetation. Rest assured that I will have 'chainsaw in hand' as I trek toward the center of the property with my rig...going where no man has gone before...to infinity!
Yes, I guess that was a little much wasn't it...been watching too much TV with the kids.
Answer

this Question