Recently, we had a family emergency and had to travel out of state on a moment's notice. We didn't know how long we would need to be gone so we brought our dog, Honey. This turned out to be a mistake. It was difficult to find a cheap hotel that allowed pets and it was too hot for her to stay in our car. We wound up taking turns caring for her, which was a distraction from the purpose of our visit.
When we later visited our relatives in the area, Honey continued to be a nuisance. Although it had been fine when we had visited with Honey in the past, this time was different. The resident dogs were very concerned about her and barked the entire visit. The cats were terrified. It added stress to an already stressful situation. I wished that I had arranged for someone to watch her at home so I could concentrate on the family who needed my attention.
We always bring Honey when we hike, camp, and go to the beach. When we go out of town on vacation, we have Honey boarded at a local kennel and doggie daycare. She obviously loves it there and gets excited when we turn into the parking lot. She has lots of time to play with the other dogs and a safe place to doze. They will also groom her for a small fee so that you return to a nice clean dog. At the end of the stay, they send me pictures of her playing. It is an additional expense but we consider it a cost of traveling.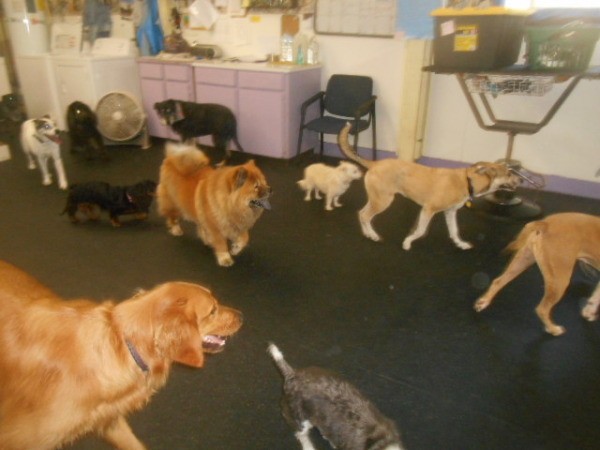 Here is a picture of Honey from the kennel. She is the Chow Chow in the middle and I can tell she is happy by her expression and tail.
Another more frugal option would be to ask a friend or relative to watch the pets for you, preferably at your home. This is ideal for people with more than one pet or for pets who do better in their normal surroundings. Your house sitter can also collect the mail, water plants and keep the home from looking deserted. Just be sure to tell your neighbors so they don't worry.