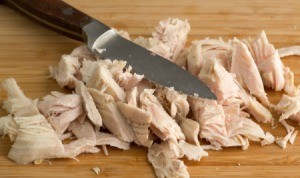 You don't have to stuff yourself with all that turkey right away. Cut it up into bite sized pieces, and measure the turkey into individual freezer bags. Divide the turkey into the amounts you normally use turkey or chicken in recipes. Next time you want to make a casserole or something, your turkey is all cooked and measured for you, and you just have to toss it in with the other ingredients for a quick dinner. And it isn't as boring as two weeks of turkey sandwiches!
By Lynn

Post your ideas below.

Answers:
Leftover Turkey Ideas
I'm looking for a turkey and noodle recipe. I have turkey stripped to the bones, almost. I remember my grandmothers boiling the ham bones in the past and making ham and beans, so how do i boil the turkey bones etc, and make turkey and noodles (11/25/2005)

By Brett
Leftover Turkey Ideas
I always do this too. I think that's why we love turkey so much and never seem to tire of it. The only thing that I do differently is, after I make stock, I put the leftover meat into rigid pint freezer containers and pour stock over it. It keeps the meat juicy and prevents it from getting freezer burn. The meat seems to keep in the freezer a lot longer this way too. When I'm ready to make a casserole, I already have the stock, so I just thicken it instead of using cream soups, etc. Or, if I don't need it, I save it for soup or gravy at a later time.
How to make the stock (Brett)? Just put the skin, meat, bones, scraps of leftover stuffing and all in a large pan, cover with water, bring to a boil, and simmer a while. I usually add a tablespoon or two of vinegar to draw the calcuim out of the bones. You can add carrots, celery, onion or spices like bay leaves, peppper corns, etc, at this time too if you want. Once it's cooked for a couple of hours, I strain all the bones and stuff out, and pour the stock in a clean pan. I skim off the fat--some cool it in the fridge to do this. I pour it into individual containers for soups, gravies, etc, and place them in the fridge to cool, than transfer them to the freezer till needed. (11/19/2006)

By susan
Leftover Turkey Ideas
To Brett,
The instructions for stock by susanmajp are very good. The only thing I would add is to start the stock with cold water, set the burner on low and let it come to a simmer slowly. This brings more good stuff out of the bones. I usually have a pot with cold water on the stove and start throwing bones in there right after dinner adding leftover raw celery and carrot sticks, etc.
Susan from ThriftyFun (11/19/2006)