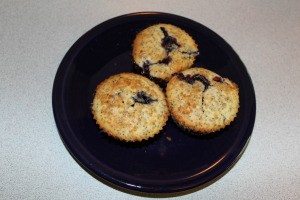 I was planning to make blueberry muffins with berries I had gotten fresh from the local farmer's market, when my son told me how much he liked a poppy seed muffin he'd sampled at Costco. I combined a couple of recipes to come up with this great tasting concoction.
Ingredients:
1 large lemon (both zest and juice)
1 1/2 sticks butter (12 Tbsp.), at room temperature
3/4 cup granulated sugar
2 large eggs, at room temperature
4 Tbsp. poppy seeds
2 tsp. vanilla extract
2 tsp. baking powder
1/4 tsp. fine salt
2 cups all-purpose flour
2/3 cup milk (you may need more - add sparingly if the batter seems too dense)
2 cups blueberries
1/8 cup raw sugar (to top muffins)
Directions:
Preheat the oven to 375 degrees F. Grease muffin tin and set aside.
Zest lemon into large mixing bowl. Cream the zest, butter, and granulated sugar until light and fluffy, about 2 minutes. Scrape down the sides of the bowl with a rubber spatula. Add the eggs, one at a time, beating well after each addition. Then add juice from the lemon and vanilla.
Stir in the poppy seeds. Add salt and baking powder, mix. Slowly add flour, alternating with the milk. Take care not to over mix the batter.
Fold in the blueberries. Divide the batter evenly into the muffin tin and sprinkle the tops with sugar.
Bake until golden brown, 25-30 minutes.
Cooking Time:
25-20 Minutes
By Stephanie from Hillsboro, OR