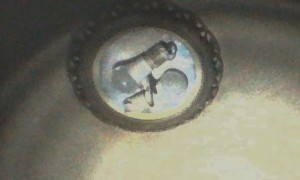 When I make this query, at the top of the list are things about the paranormal and I want science. I sleep in my lift chair because I broke my back and can't lay flat. Every time I'm about to doze off I hear this sound like a pebble is being thrown every so often at the light fixture in the ceiling, yet, when I look, there are no pebbles, obviously. No bugs flying around hitting it, either.
My inner conspiracy theorist imagines somehow a hidden camera or something that takes a picture every so often, but nah. This is almost right above me. I'm concerned it could present an electrical problem, but I don't know what is causing it. I will admit, it does spook me, so I pray. :) It does this when the lights are out. I never hear it until I am about to drift off to sleep. Then it keeps doing it as if it's trying to impede my sleep. Is this indicative of an electrical problem?
I thought maybe bugs were hitting the light, but none are to be found. It doesn't make any sense. It's kind of loud. I will record it. In this picture I shined a flashlight on the light fixture that does it because the room is so dark with it off and too bright to photograph when it is on.