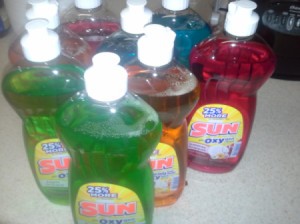 I am Sharon and I am frugal. I will stock up and buy three of anything to keep me from running out too fast. Tonight, they had soap on sale for 99 cents, so I bought 8 bottles. There can never be too much dish soap. I add half a bottle of water to any empty laundry bottle and I get more than one load of free washing soap. I have a recycle room in my building and found a few good bottles never rinsed out.
Many people enjoy all the treats they get from me during the holiday season. It's April already and I was done with my Christmas shopping on the day after Christmas. Every thing else is extra. I shop Walmart the day after Christmas every year. I also went to the Dollar Tree and bought up about 8 "As seen on TV" bacon bowls. They are going to be a hit this year. At a bargain like that, who would not love them.
I shop for myself with a budget in mind. If I can find a shirt new or used for $4, I am a happy camper. I budget for pants at the Salvation Army and those start t $6 a piece. I can go there with $60 and leave with bags in my hands. I am just now starting to look for sheets in the stores. Before today, they all came from the Goodwill or Salvation Army. They are the good quality for pennies.
When my 20 year old daughter was a child, almost everything she had came from thrift stores. Now that she is older she does not mind shopping them as long as it's a town away from where we live. She learned a lot from me over the years. I see now she shops the clearance section most often.
I often use Freecycle to donate and receive items I might need. I also seek out things for loved ones without a computer.