I have considered myself a thrifty or frugal person my whole life. As a child, I would collect cans for extra money and visit neighborhood garage sales for toys I wanted.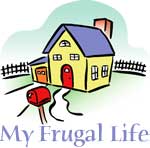 As I grew up, my thrifty nature followed me. I went to thrift stores and garage sales for clothes, which I mended and embellished to make them my own. I mapped out my daily activities to use as little gas as I could and have always turned off lights and electronic equipment when not in use.
When my children were babies, I used cloth diapers and I hung clothes outside to dry. I bought most of their clothes, up until the age of 10, at garage sales and even found a crib, needing some TLC, that I refinished and all 3 of my children used.
As my children grew, I became a coupon diva. I saved a substantial amount of money with double and triple coupons. Left-overs never went to waste either. Most of the time I could create a new dish for the night, using yesterday's meals. I ran a home daycare, so I was feeding 6 children breakfast, lunch, and snack. I bought in bulk to keep costs down.
Now that my children are grown and on their own, and I could splurge a little more on myself, I don't. I still shop for most of my clothes at thrift stores. And those that I don't find there, I can always find on the clearance racks. My favorite grocery stores are Save-a-lot and Aldi. I rarely buy name brand items and when I do, I still use my coupons. I still map out my errands, to save money on gas, and I use websites like Craigslist for purchasing larger items I need.
Being frugal or thrifty is fun. I am proud of the money I was able to save our family, because it enabled us to save for family fun times. I can't see into the future, but chances are that I will be a frugal senior citizen as well.
By Dawn from Painesville, OH
Do you have a frugal story to share with the ThriftyFun community? Submit your essay here: http://www.thriftyfun.com/post_myfrugallife.ldml