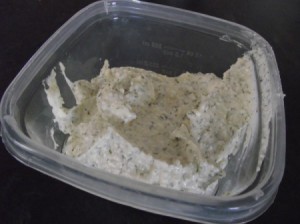 They're called "hacks" these days; easy ways to work around a lengthy, often time-consuming process. Making cream cheese from milk isn't difficult, but it does take time. Using cottage cheese is an excellent hack!
Tools & Equipment
- food processor
- spatula
- measuring cups and spoons
Ingredients
- ½ cup 1% dry-curd cottage cheese
- 1 cup 1% regular cottage cheese
- ½ teaspoon garlic powder
- 1 tablespoon nutritional yeast
- ½ tablespoon dry dill
Other flavour options include but are not limited to caraway or cumin seed, fresh basil, liquid smoke with salmon jerky.
Combine all ingredients in bowl of food processor. Use pulse mode to puree until desired consistency / creaminess is reached. Pause to scrape down sides of work bowl with spatula. Continue with pulse mode until all ingredients are thoroughly combined.
Serve on bread slices, toast or crackers, spread on celery sticks, add small dollops to cucumber slices, fill mushroom caps to bake / heat.