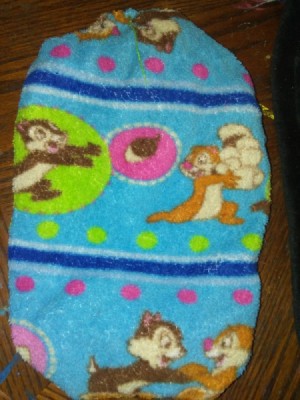 My dogs like to play with toys, and yet they like to pull out the stuffing even more. As a result I have started to make their own unstuffed dog toys. I took an old fleece pajama pant and cut a good size off of the leg part. This gave me a length of material that was sewed together, but open at both ends.
I laid it out flat, right side in, and sewed through both layers to make a square shape. I left a two inch gap at the end so I could turn the toy back out, so the right side of the fabric would show. Then I sewed the little gap shut.
For my dog, at his age, a four year old Husky/Shepherd named Sammy, this will last a long time, since he just likes to carry them around and show them to me ;) This toy is one of his favorites next to a huge half-stuffed Easter Bunny from years ago.
I do watch them play with various toys so I know what their chewing styles are. I make them so they are too big to accidentally swallow. They are adorable and soft, and can be used to lay their heads on, when they want to.