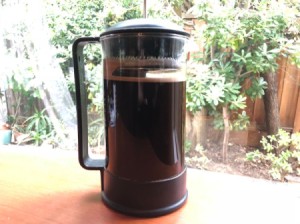 I managed a famous coffee shop for a long time, so you can trust me with these tips! I adore my French Press because I don't need to buy any coffee filters, and I get the whole full-bodied taste of the coffee beans without removing their essential oils. This instruction will be for 2 small mugs of coffee, using 6 tablespoons of coffee beans and 2 cups of boiled water that has sat still for 1 minute after boiling point.
Grind the coffee beans. Grinding them too fine will cause the coffee to be muddy and taste a bit dirty. Grinding them too coarsely will cause a watery cup of Joe. Err on the side of something in the middle.
Place the grounds into the French press and shake it so they lay evenly. Add just 1 cup of freshly boiled water to the press. This will allow the coffee to bloom. Wait a minute then stir the grounds with a spoon. Add the other cup of boiling water, then press the plunger down so it almost touches the water. Let rest for 4 to 5 minutes, no longer.
Very slowly push the plunger all the way down the press and pour into mugs immediately.