Making Fabric Pins
Solutions
Share on ThriftyFunThis guide contains the following solutions. Have something to add? Please share your solution!
Use your fabric scraps or old clothing to create these fashionable flower pins.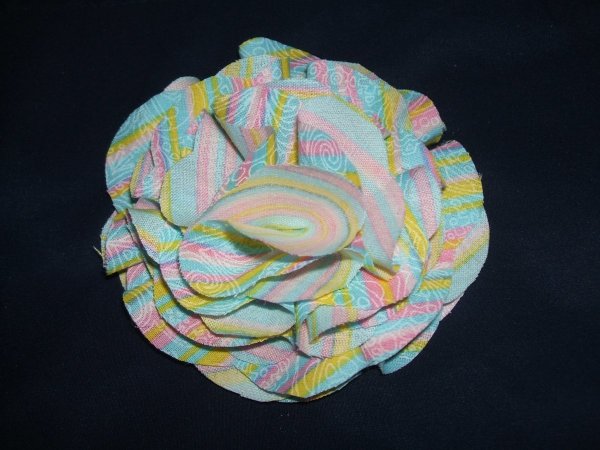 Approximate Time: About 40 minutes
Supplies:
fabric scraps
card stock or other stiff paper
scissors
pencil
hot glue gun and glue sticks
scrap piece of felt
pin back
Instructions:
Create a scalloped flower template in three graduated sizes using card stock, poster board, or other stiff paper. Mine were approximately 4 inches, 3 inches, and 2 inches in diameter.

You will need to cut 4 of each size from your desired fabric. Also, cut a 2-inch diameter circle from felt for the base.
Begin with the largest size flower and fold it in half. Apply a dot of glue at the center of the folded edge (see photo).

Fold the flower in half again, over the glue, to create a petal. Do this for all of your scalloped pieces.

Using the largest petals, glue each one to the felt circle, with points meeting in the center.

Glue the next size petals in the same manner, placing each one alternately on top of the first layer.

Proceed in the same manner with the third layer.
Turn flower over and glue on a pin back. Fluff up flower with your fingers so it doesn't lay flat.
By Rachel's Mom from Wilkesboro, NC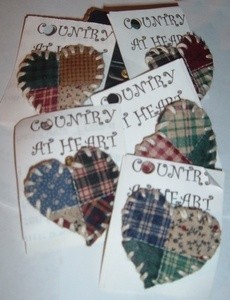 If you don't know what "cheater quilt" fabric is, it's basically fabric that looks like it was pieced together already. I found some that was so many different combinations, just depending on where you cut it.
I made these cool pins.
Supplies:
fabric
felt
glue and water, for stiffener
heart shaped template
scissors
needle
thread
glue
pin back
Directions:
I simply sewed down the seams where the fabric went from one pattern to another in each direction, onto a piece of felt.
Then, using 3 parts glue to 1 part water stiffener, I stiffened the fabric to make it cut like paper. This not only makes it easier to work with, but seals the thread so when you cut it, it won't unravel.
Make or find a heart template that you like, and trace around them, trying to get all the fabric variety in the heart shape.
I whip stitched around the outside, and glued a pin back with a piece of felt over the middle on the back.
The cost is about 4 cents per unit, and I sold them for $2.00!
By Sandra from Salem, OR
These are home made pins you can make in about 1/2 an hour, to wear, give, or sell!
Approximate Time: 30 Minutes
Supplies:
8 inches of lace, your choice of color or complexity
fancy buttons
small critter like bear, bunny, bug, etc.
ribbon length to make one or two bows
beads or pearlescent embellishments
crochet thread
hook size "E"
hot glue gun
pin backs
thread and needle
old earrings or cameos or small brooches
scrap felt or foam
Instructions:
First Pin (Heart And Lace):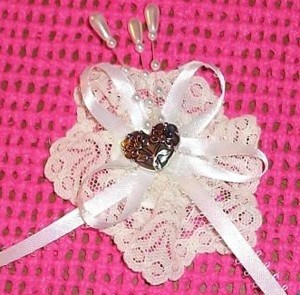 Sew the ends of an 8 inch length of lace together, without folding. Just lay one end over the other and make small stitches to close it.

Drop your needle down to the edge you finished on and make gathering stitches the entire loop and gather, securing the thread. Cut and set aside. If you are making an elegant pin, you need buttons, cameos, or old earrings to make it pop.

This is where you make your ribbon bows. Your color of lace will help dictate the color of the ribbons. If you have a pink lace and you want to make something for spring, choose a mint, yellow, lavender, or baby blue ribbon to tie it all together.

Choose the ribbon, and make your double or single bows, stitching them to the center.

For buttons, sew the button shank to the lace, making sure you hit several gathers to make the pin stay in place. Other items can be hot glued once the ribbon and pearls (or your choice of embellishments) are on.

Cut a circle to cover all the back work and sew it onto the back.
Note: Do not use hot glue for the backing. It can melt the foam and ooze through the lace, ruining your project! The only reason you can hot glue something to the front is if it oozes through the back, no one will see it.

Now you can hot glue to pin back to the foam.
Second Pin: (Lace And Bear)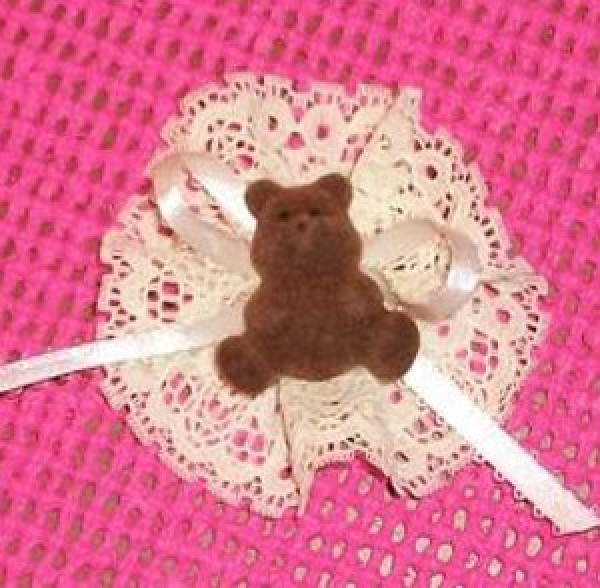 Your project number one is pretty much the same as this one, but I chose to use a critter that would go with cream colored lace. This little felt fellow just screamed to be shown off, so I caved.

You can use buttons in the shape of critters, or again, just about anything you want to make it unique and all your own. Do you have a pretty ring you don't wear anymore? Some satin roses you found in the craft box? An old brooch you always wanted to doll up?
Third Pin (Crochet Heart):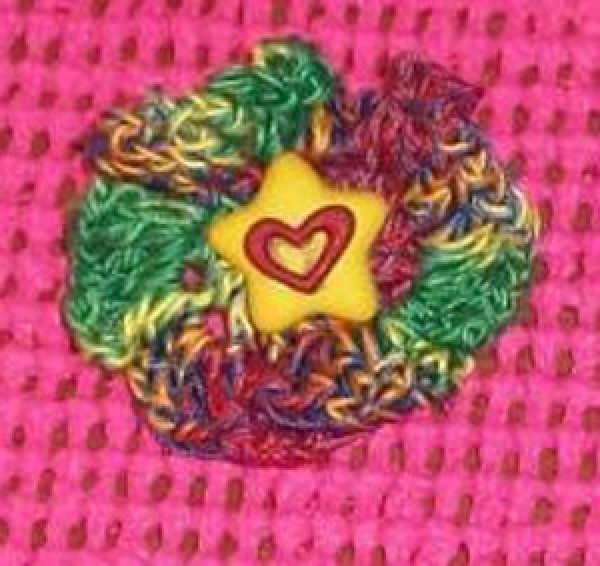 I made this one double, so measure out about 35 yards of crochet thread and fold it. Chain 4, making 15 more DC's (double crochets) in 1st chain from hook. Join.

Chain 4, make one DC in same stitch, chain 1, make another DC in same, chain 1, and make a third DC in same.

Repeat this pattern around all 15 DC's from previous row. Join, fasten off and work in tail.

Embellish with button, critter, old jewelry, etc.
Note: Repeat the back instructions for all the pins.
When you become comfortable with the design, you can go crazy with ideas of how and what to put on them. Miniatures, old watch pieces with chain, game pieces, wooden pieces you have painted, broken jewelry, and so much more.
Thanks and I hope you enjoy these!
By Sandi Allen from Yorktown, VA
July 16, 2015
0

found this helpful
This is a guide about making a folded fabric flower. A great way to use up material scraps is to fashion a new pin, or use your flowers to decorate all kinds of crafts.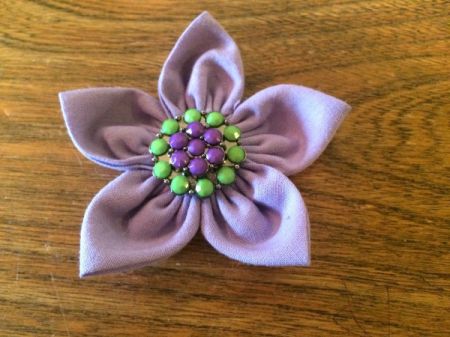 Videos
July 11, 2013
0

found this helpful
Use your fabric scraps or old clothing to create these fashionable flower pins. View the full project here: Fabric Flower Pin
Related Content