Polymer clay can be expensive, but it's so easy to make, and you can color it with food coloring. The best food coloring is the paste colors that cake decorators use. They last forever.
The recipe is:
One Part Cornstarch To One Part White Glue (like Elmer's Glue).
If you want it thinner, just add water. Form it into your favorite form and let it dry at least overnight. If you want to make beads, leave a toothpick in it while it dries.
I'm a Raggedy Ann buff so I make round flat forms to make Raggedy Ann pins and magnets. I do the faces with fine tip permanent markers. I just need red and black for that. The forms can be sprayed with sealer that comes in a spray can meant for clay type crafts. It can be colored with food coloring too. The best food coloring is the paste type that's used for cake decorating, and it lasts forever. How easy is this, Ha!
By Ardis B
Editor's Note:
This is polymer-like recipe, that requires no baking. It is self hardening.
Homemade Polymer Clay
Here is my recipe for a good air-dried clay. I use it a lot. Don't make ornaments too thin as if it is less than 3/8 to 1/4" thick it is fragile.
Self Hardening Clay
4 cups flour
1 teaspoon alum
1 1/2 cups salt
1 1/2 cups water
Mix flour, alum and salt together in a bowl. Add water gradually to form a ball. Knead (pound, roll & pull) the clay, adding water until it no longer falls apart. Store in a sealed plastic bag in the refrigerator. Allow the clay to come to room temp for easy use. Let your finished project dry at room temp for 2 days. It will become very hard and can be painted.
Stanlie (06/15/2005)
Homemade Polymer Clay
There were several questions on my version of polymer clay. I know this will help you.

First of all, no baking, just let dry for a day or two. If it's too thin, add more corn starch; too thick, add more elmers glue. You can store it in a plastic bag, but I wouldn't refrigerate it, it would be too cold to handle. ARDIS (07/08/2005)

By Ardis Barnes
Homemade Polymer Clay
This may be a good homemade clay, but it isn't polymer clay. Polymer is plastic. (09/04/2005)

By Kim K.
Homemade Polymer Clay
Anyone have any suggestions on making clay shingles for a large wooden doll house? Would they crack too easily? Can they be glued to wood? Would any colors bleed when wet? I have visions of rolling out 3/8" thick sheets, then pizza-cutting each one.. OR molding my own "Spanish tiles" over two pencils? Is this idealistic?

Editor's Note: I haven't made this homemade polymer clay so can't speak to how that would work or if it would bleed but it seems as though it would work well with Sculpy or other polymer clay. Great idea by the way! (07/26/2006)
Homemade Polymer Clay
I tried the recipe as well and it got stuck to me. How can I make it less sticky? I measured it out and did equal parts of each so I guess I didn't understand. Could you please tell me how you make it less sticky?,

Editor's Note: If it is too sticky, add more corn starch. If too thick, add more glue. (10/21/2006)

By Anna Lyman
Homemade Polymer Clay
1. All Glue based clays should not be baked. They are air dry only.
2. The thickness of the glue will affect the type of clay you end up with. A fine thin glue will give you a look of porcelain.

3. You can add acrylic paint for the colour at the time you mix your clay.
4. Your options for colour are endless.

5. Projects will shrink. Keep this in mind
6. The clay will keep for months if wrapped tightly in the fridge.

7. Projects will last for years if kept dry.
8. Seal with Minwax water based varnish.(Gloss, Satin or matt) and they will survive forever.

9. OK. The glue is the polymer.
10. The cornstarch is the filler. Could be bread or flour or a mix of fine grain substances. Salt, baking soda etc. (03/06/2007)

By Maggie
Homemade Polymer Clay
i tried the recipe for poly clay using glue? it helps if you measure the glue first in a small bowl before adding in 1 1/2 TBS of cornstarch.. mix it with a spoon until everything sticks to the glue. You can form a ball from it afterward. Made several cute projects with that recipe already.. (03/13/2007)

By sheene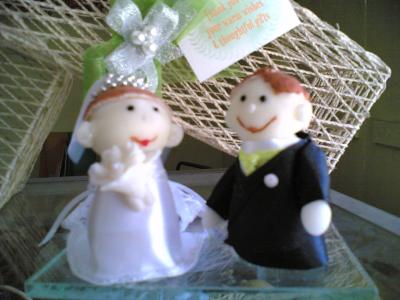 Homemade Polymer Clay
You can avoid stickiness by adding a little bit of sunflower oil to it (09/28/2007)

By Juliet
Homemade Polymer Clay
I made this yesterday and my 14 yr old made the most adorable snowman with it, it looks just like polymer clay figures. She even blushed its cheeks and feet.

It was not difficult to make at all, I simply used my brain and if it was sticky added more cornstarch. I didn't even make a measurement, I simply added a bunch of cornstarch to a bowl and added glue then added more of each till I got the consistency I wanted.

I have tried salt dough, I have tried salt dough with cornstarch and vaseline added, none of them are as good as cornstarch and glue. it holds its shape, it dries well, it does not crack.

the other recipes I have tried do not hold 3-d shapes well and when you add a head to a body the whole thing sinks down and squashes.
My daughter coloured the cornstarch glue mixture with food colouring and it worked well. (11/26/2007)

By This is great stuff!
Homemade Polymer Clay
Here is a pic of the snowman she made. It was difficult to take a pic of it because of the white clay and flash, so I set it on my red fleece. See how cute it is.


You have to realize, my daughter got very frustrated trying to make things out of salt dough, so i was REALLY impressed with this snowman she made. she used glass beads for his eyes. (11/27/2007)

By This is great stuff!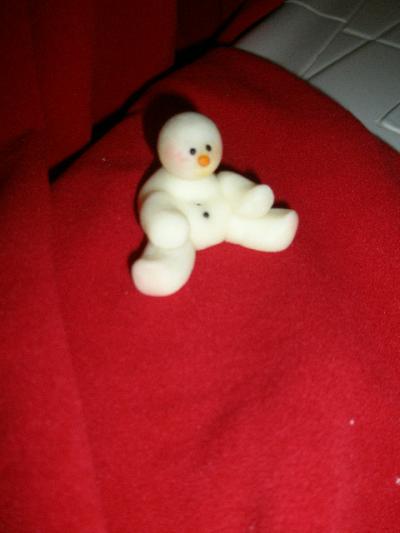 Homemade Polymer Clay
I noticed a lot of people having problems with the recipe given here. Don't give up too fast! This type of clay is usually called Cold Porcelain Clay. It can provide some very astonishing results especially with floral sculpting. Usually recipes for this type of clay require more ingredients and you need to cook the dough. Do a search for Cold Porcelain Clay in your search engine. Also do a search in Google Images. You will be surprised what can be done with this clay.
Have Fun. (01/20/2008)

By Paul