Over 20 years ago, we were expecting our first grandchild. I had made a list of everything I would need to take for this trip, preparing to stay a week and help out and of course give my motherly advice to this new mom.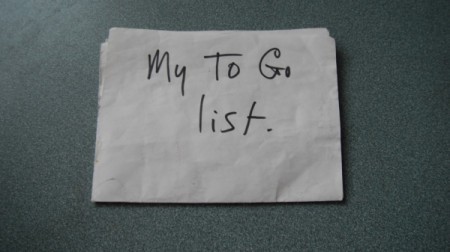 Our daughter is a nurse. She was on duty at the hospital when she called me at the office and said, "Mom, are you ready to be a grandma? My water just broke and they are sending me up to the maternity ward." I'll never forget the excitement I felt. I dropped everything and ran and told my supervisor I had to go.
In a few minutes, my husband and I were home and I grabbed my list and we started throwing things together. Within an hour, we were on the road and had a 4 hour drive to make to reach the hospital. We got there in plenty of time for the birth of our first grandchild, which was an unforgettable precious time for this grandma and grandpa. I had everything I needed.
Now our 2 grandchildren are in college. My, how time has flown. I still have the "to go list" and we pull it out every time we travel. In the past 20 years, I have added items and deleted items and retyped it when it began to show wear. One thing I know for sure; to pack for traveling, we need this list of things to take with us.
My husband always says, "Are we coming back?"