Staying Organized With Lists
Solutions
Share on ThriftyFunThis guide contains the following solutions. Have something to add? Please share your solution!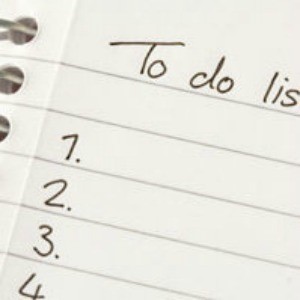 Have you ever wondered how some people get more done than others? I have always believed that wasting time is as bad as wasting resources or money. I started taking stock of how much time I spend waiting for something, and the numbers will astound you!
EXAMPLE: I spend 30 hours a year waiting for my coffee to brew! If you spend 5 minutes a day, that comes out to be just about 30 hours per year!
I spend about twice that waiting for a bus! And don't even get my started on the 20 minutes per hour that is nothing but commercials on each and every show I watch!
So, I compiled a list of what I do while I...
I hope this will help you not only in your time management, but perhaps even help you eliminate some things you may be doing that you don't even like!
While I Brew My Coffee I:
load or unload the dishwasher
water the plants
see to the cat bowls
thaw something for dinner
plan next weeks meals
While I Wait For The Bus I:
delete my cell memories and menus
read
crochet a small project
make lists of thing I need to do
While I Wait For The Laundry I:
set up the VCR to tape a show
roll yarn
cut up veggies for a salad and zip lock them
put a casserole together
clean out the fridge
While I Watch Endless Commercials I:
mute!
mend clothes or work on a crochet project
cut coupons or recipes
catch up on articles I have saved
submit cool things and read cool things on Thrifyfun!
While I Sleep I:
put a stew in the crock pot overnight
let some spray cleaner sit in the tub
run the dishwasher
soak out some stains in the sink
defrag the computer
charge the phones
If you really think about what you can be doing while you think you have time to do only one thing, you will compile your own list.
It sure helped me and I am sure it will help you all too.
Source: I thought of this myself. I have been a multitasker from before it had a name, so this is old stuff to me. This is a way to get it out to all "like minded" people. Enjoy all your newly saved time!
How often have you promised to bring something to work (or to a co-worker) the next day and forgotten to do so? And then you forget the next day, and the next day...
When I was working overseas and our Internet services were less than stellar, I used to jot down a little note and stick it in my shirt pocket. When I got home and emptied out my pockets, I'd see the note and take care of it. If Internet services are reliable, like my service in Maryland is, send yourself an e-mail as a reminder. Once you get home, and see the reminder - Do it! If you promised to bring in a book, grab the book and put it in the car.
By Mike Urciolo from Germantown, MD
My husband teases me because I have inherited a family trait of making lists for everything! It sure helps when we go shopping, so I know exactly what we need for recipes, etc. Sometimes I bring photocopies of recipes I will be baking, so that if I decide to double the recipes, I will know exactly how much to buy.
Before a big event or trip, I always make separate lists for "Things To Do", "Things To Buy", and "Things That Must Be Packed". I don't know what I would do without my lists. I make copies of all of the lists, I put these lists in separate large zipped freezer bags, and put one set of copies folded individually in my purse, so they stay in my purse, and are handy for shopping trips. I find making a list of "Things That Must Be Packed" handy when you are done your trip and don't want to forget any items at the Hotel or relatives house.
By Marilyn Steckly from Chatham, ON
To remember things you want to do keep a big pad on your desk and one near your chair where you set in living room. I also keep a pad for a grocery list, sometimes just watching TV I think of an item I need so I write it down.
I also take Ginkgo for memory, it helps.
Read More...
December 11, 2004
2

found this helpful
I keep a list on the kitchen counter of things to do and things to buy. If I remember something else that needs to be done I just add it to the bottom of the list. After a day or two I rewrite the list and take off anything that's already marked off.
Read More...
I keep a pad and pen beside each the computer and the microwave. I use the one by the microwave for shopping items I need; then I have a ready-made shopping list.
Read More...
I live for my lists. I can't do much without them. So I am always shifting my lap desk and losing them on the floor.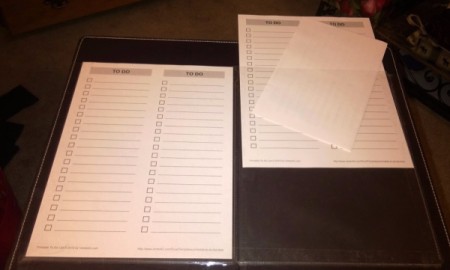 When packing to go on Holiday, I prepare a list. I have made up a list of everything that I should bring along and made extra copies of this "TAKE ON TRIPS" list.
Read More...
I'm a big list user. I have an excel spreadsheet on my computer with tabs. I have a list for my movies, cookbooks, kitchen items, books, and more. I get this habit from my mom!
May 24, 2005
1

found this helpful
Anytime you are taking notes from a speech, making a grocery list, or just getting you chores organized, use any size paper that's handy, divide into four sections by either folding in it or drawing a line down the center and one line across the middle.
Read More...
March 14, 2005
0

found this helpful
Keep a list of all the foods in your fridge and freezer on a dry erase board and add/subtract foods as you eat/replenish them! It is great for being able to scan and see what you can make or what you need at a quick glance!
Read More...
Related Content